Elysium Fire (Paperback)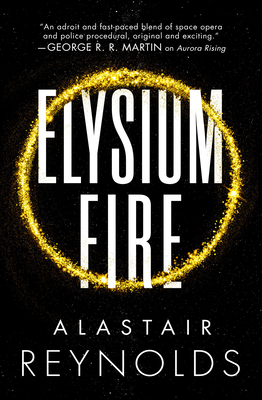 List Price: $16.99
Our Price: $16.14
(Save: $0.85 5%)
Other Books in Series
This is book number 2 in the The Prefect Dreyfus Emergencies series.
Description
---
Elysium Fire is a smoldering tale of murderers, secret cultists, tampered memories, and unthinkable power, of bottomless corruption and overpowering idealism from the king of modern space opera.

Ten thousand city-state habitats orbit the planet Yellowstone, forming a near-perfect democratic human paradise.

But even utopia needs a police force. For the citizens of the Glitter Band that organization is Panoply, and the prefects are its operatives.

Prefect Tom Dreyfus has a new emergency on his hands. Across the habitats and their hundred million citizens, people are dying suddenly and randomly, victims of a bizarre and unprecedented malfunction of their neural implants. And these "melters" leave no clues behind as to the cause of their deaths. . .

As panic rises in the populace, a charismatic figure is sowing insurrection, convincing a small but growing number of habitats to break away from the Glitter Band and form their own independent colonies.
About the Author
---
Alastair Reynolds was born in Barry, South Wales, in 1966. He studied at Newcastle and St. Andrews Universities and has a Ph.D. in astronomy. he stopped working as an astrophysicist for the European Space Agency to become a full-time writer. Revelation Space and Pushing Ice were shortlisted for the Arthur C. Clarke Award; Revelation Space, Absolution Gap, Diamond Dogs, and Century Rain were shortlisted for the British Science Fiction Award, and Chasm City won the British Science Fiction Award.
Praise For…
---
"This novel's ideas are mind-stretching, including a limbo where copies of the dead can be kept and interrogated, and a chillingly mischievous AI that tempts and mocks Dreyfus. The big concepts and complex story effectively pull readers into intriguing speculation about human identity and potential."—Publishers Weekly

"Reynolds combines depth in characterization and dazzling hard-science applications to keep the reader turning pages."—Booklist

"Elysium Fire is a tremendously assured read, a fast-paced page-turner that delivers a well thought out story and characters you'll come to care about."—The Guardian (UK)

"A swashbuckling thriller--Pirates of the Caribbean meets Firefly--that nevertheless combines the author's trademark hard SF with effective, coming-of-age characterization."—The Guardian on Revenger

"Revenger is classic Reynolds-that is to say, top of the line science fiction, where characters are matched beautifully with ideas and have to find their place in a complex future. More!"—Greg Bear on Revenger

"A leading light of the new British space opera."
—Los Angeles Review of Books on Alastair Reynolds

"One of the giants of the new British space opera."
—io9 on Alastair Reynolds

"[Reynolds is] a mastersinger of the space opera."
—The Times (UK) on Blue Remembered Earth

"Heir to writers like Isaac Asimov and Arthur C. Clarke, Reynolds keeps up the tradition of forward thinking... An immensely thrilling, mind-bending piece of work."
—AV Club on House of Suns

"[Reynolds] is the most gifted hard SF writers working today."
—Publishers Weekly on Beyond the Aquila Rift