The Flamingo Rising (Paperback)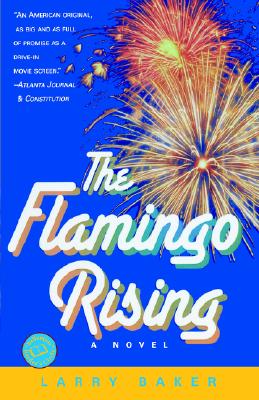 List Price: $19.00
Our Price: $17.10
(Save: $1.90 10%)
Description
---
In this touching, hilarious novel of the heart and mind, of dreams and memory, of desire and first love, Abe Lee comes of age in the 1960s, living with his unforgettable family at the Flamingo Drive-In Theatre on a scrubby patch of coast between Jacksonville and St. Augustine, Florida. There, some of America's last sweet moments of innocence are unfolding.

For Abe's father, Hubert, there's nothing better than presenting larger-than-life Hollywood fantasies on his vast silver screen. Nothing, that is, except gleefully sparring with Turner West--a funeral home operator who doesn't much appreciate the noise and merriment from the drive-in next door. Within the lively orbit of this ongoing feud is Abe's mother, Edna Marie, whose calm radiance conceals deep secrets; his sister, Louise, who blossoms almost too quickly into a stunning, willful young woman; and Judge Lester, a clumsy man on the ground who turns graceful when he takes to the sky, towing the Flamingo banner behind his small plane. Then Abe falls for Turner's beautiful daughter Grace. That's when, long before the Fourth of July festivities, the fireworks really begin. . . .
About the Author
---
Larry Baker lives with his wife and children in Iowa City, where he teaches literature and history. Currently serving his second term on the City Council of Iowa City, he is seeking reelection this fall. He can be reached at bakerl@blue.weeg.uiowa.edu. I was raised an Army/Air Force brat. Traveled with my family all over the country and then overseas. I was introduced to my father when I was three or four. He was sitting up in my mother's bed, sheet pulled up to the bottom of his shirtless chest, a pair of binoculars hanging from around his neck, in a room with the curtains closed. If my writing shows some character's ambivalent feelings toward his father, it is probably me using fiction as therapy.

I was married when I was eighteen. It was the Sixties. If a girl told you that she was pregnant, the expected thing to do was marry her, at least in Texas, when the girl's father was the Chief of Police. I was divorced five years later. My ex-wife then called me to ask me to take custody of our son so she could marry a Jordanian multi-millionaire who "was all the man you never were, Larry." I happened to be living with a young woman at the time who informed me that her being a step-mother at age twenty was not in her contract, so I was soon a bachelor father.

Started working at a drive-in. Made a career of it. During my drive-in career I was robbed four times, shot at once, stabbed once, arrested for collusion to transport pornographic materials across state lines, beat up by a motorcycle gang in Tulsa, found a dead woman in the toilet, was attacked by an irate father who accused me of embarrassing his daughter at a Friday night full house, interrupted countless couples who were having sex in their car or van, established the unofficial obscenity standards for the state of Oklahoma by showing Deep Throat without getting arrested, caused a thirteen car pile-up on an interstate highway by showering the highway with windblown fireworks, and then there were all those episodes that I can't even put in print.

I met my present wife in graduate school. I had just recently sold my last theater, the Hollywood, in Norman, Oklahoma, and was known in the English Department only as "that guy who showed that Marilyn Chambers movie." Even before it was a cliche, I was politically incorrect. She and I literally first met outside the bathroom at a party given by the other graduate students. It was 1978, but it might as well have been 1968. In the front room was a line of people passing around a joint, a line which included several nursing mothers. Unlike Clinton, everyone was inhaling, even the babes in arms. Waiting outside the bathroom, I looked at her short hair and asked her if she was a lesbian. She asked me if I was a pornographer. It was love.

A few months later she took me to Nashville to meet her family. I was Southern, but I had never really met Southern Gothic before. My new brother-in-law, Bobby Russell, was the writer of "Honey--Little Green Apples--The Night The Lights Went Out In Georgia" and other country hits, as well as a man who worshipped Elvis and kept Nazi memorabilia in all his bathrooms, as well as hanging Nazi flags in the barn where he used to watch his prize race horses procreate. Vicky Lawrence was one of his wives. She created the characters for Carol Burnett's skit called Mama's Family. I heard those lines long before they were on television. Scary.

I moved to Iowa City to finish my PhD in English, after a nasty year in Chapel Hill, North Carolina. Those people still insist that the North lost. Once in Iowa City, I got mad at a local developer who was tearing down old houses to build apartments. I ran for City Council, lost, got appointed to the Zoning Commission and then ran for office again in 1983, winning with 65% of the vote. A four year term, and then, after adopting kids, I moved to Florida, was miserable, fell in love with the ocean (I do not swim), moved back to Iowa City and ran for Council again in 1993 and won with 55% of the vote.

Right now I work part-time at WaldenBooks, teach three classes at a local community college (history and literature), and my being an elected official of the America's most educated community (according to the US Census Bureau), and home of the Writer's Workshop, will be the acid test of whether irony and politics can survive together.

I am working on my second novel tentatively titled The Education of Nancy Flynn, all about sex, teaching, and politics. "From the Hardcover edition."
Praise For…
---
Excerpts from reviews of Larry Baker's The Flamingo Rising


"A first novel that dares mix the Icarus, Oedipus and Earhart myths, risks
a Romeo and Juliet update, plunders Dante, references the Bible, rewrites
movie history and inside-outs the American past. Yet Baker's book is far
from pretentious. It's one of the more endearingly adept debuts to come
along in a while....A novel that is as fully realized as it is inventive,
humorous and heartaching."

--Los Angeles Times

"Like his flamingo, Baker never loses his footing."

--The Star Ledger

"[The Flamingo Rising] is an American original, as big and as full
of promise as a drive-in movie screen, formed out of the grist and gristle
of late 20th century fiction."

--Atlanta Constitution

"This is much more than a sum of memorable parts; it is a literary tour de
force, a study of barriers built and torn down."

--New Orleans Times-Picayune

"This pitch-perfect first novel is reminiscent of the best of John
Irving....Like the giant July 4th fireworks display toward which the story
builds, this engaging, moving novel sends up one sparkler after another on
its way to a crash-bang, heart-stopping ending."

--Publishers Weekly

"The coming of age story is done to a fine turn in Baker's absolutely
delightful first novel, which is also a clever spin on the Romeo and
Juliet theme."

--Booklist

"A truly affecting work, and an inventive one."

--Kirkus Reviews

"[Baker's] own sense of theatre is so grand that only after three hundred
pages does everything come joltingly into focus....Larry Baker is writing
for grownups but he remembers how it felt not to be one, and renders the
experiences in unforced, unshowy prose, neither folksy nor formal. The
result is a novel that's both modest and surprisingly seductive."

--The New Yorker