The Unexpected Gift of Trauma: The Path to Posttraumatic Growth (Hardcover)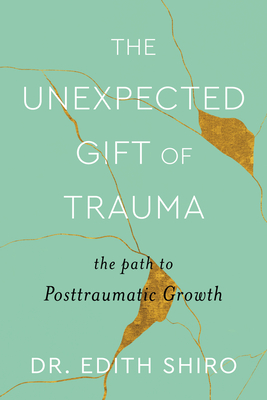 List Price: $29.99
Our Price: $25.49
(Save: $4.50 15%)
Warehouse, In Stock | Usually Ships in 1-5 Days | New
Description
---
A groundbreaking approach to healing from trauma and experiencing posttraumatic growth from a leading psychologist, featuring a powerful, five-stage framework to help readers not just recover, but thrive and transform. 
Trauma has always been part of the human experience, and traumatic events—both physical and emotional—can shake our very foundation and leave us forever changed. While we know more about the lasting neurological and physical effects of trauma than we did a decade ago, few people realize that experiencing trauma doesn't have to sentence you to a lifetime of suffering and grief.
In this first book of its kind, renowned clinical psychologist Dr. Edith Shiro shares a powerful, five-stage framework for posttraumatic growth, a transformational process that helps you not just heal, but achieve growth and expand consciousness in the face of trauma. Inspired by her grandparents, who were refugees and Holocaust survivors, Dr. Shiro has dedicated her life to individuals, families, and communities facing trauma and its aftereffects. Developed over more than twenty-five years of research and practice, Dr. Shiro's stages—Awareness, Awakening, Becoming, Being, and Transforming— provide a universal language and outline how trauma can be a catalyst for transformative growth.
Grounded in science and psychology, and filled with practical tools and takeaways, The Unexpected Gift of Trauma offers a bold a new definition of trauma, touching on individual as well as collective and intergenerational trauma. Dr. Shiro brings the power of posttraumatic growth to the forefront and reveals a groundbreaking new way to think about and heal from traumatic experiences. 
About the Author
---
Dr. Edith Shiro is a clinical psychologist in private practice in Miami, Florida. She specializes in trauma and posttraumatic growth, holding space and guiding her patients to achieve greater potential and higher consciousness. Dr. Shiro is co-founder of the Trauma and Resilience Center, board member of the World Happiness Foundation, and an active member of Cadena International, providing humanitarian aid and disaster prevention worldwide. She has worked at the Clinic for Survivors of Torture at Bellevue Hospital, the Cambodian refugee clinic at Montefiore Medical Center, and the Human Rights Clinical Support Network at REFUGE, among others. She continues to offer workshops on trauma-based therapy for mental health professionals since 9/11. She is a frequent guest on various TV shows, podcasts, and radio programs.  
Praise For…
---
"The Unexpected Gift of Trauma is a roadmap for dealing with, and ultimately growing from, hardship. Based on rigorous research and compelling case studies, Edith Shiro has written a book that can help us all in difficult times." — Tal Ben-Shahar, New York Times bestselling author of Happier

"Thanks Dr. Edith Shiro for this masterpiece that has been meticulously put together during so many years of deep research and practice. It is a roadmap to humanity's collective healing." — Luis Gallardo, author of Happytalism and Founder and President of the World Happiness Foundation
"An absolute gift. Each reader leaves with the understanding that transformation is possible and that there is a clear path to achieve it, expertly and tangibly laid out. As difficult as the road ahead is, The Unexpected Gift of Trauma can act as a companion guide for each step of the journey." — Shelly Tygielski, Founder of Pandemic of Love and Author, Sit Down to Rise Up
"Tragedies carry not only histories of pain, limitation, and loss, but openings for creating something new.  Edith Shiro, in her powerful new book, beautifully maps the creative processes that transform constriction to flourishing in the aftermath of individual and collective traumas." — Jack Saul, Director, International Trauma Studies Program
"With transformation in perceptions, meanings, and ways of thinking, traumatized individuals, couples, and families can find a new resilience—one that helps them to move forward with life despite the traumatic experience. I highly recommend Dr. Shiro's well written and informative book for both students and experienced mental health professionals." — Pauline Boss, Ph.D., Professor Emeritus, University of Minnesota. Author, Ambiguous Loss (2000); Loss, Trauma, and Resilience (2006)