Military Coercion and Us Foreign Policy: The Use of Force Short of War (Routledge Global Security Studies) (Hardcover)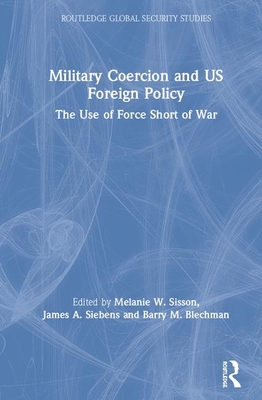 This item is backordered and not currently available. Please contact us for an estimated availability date.
Description
---
This book examines the use of military force as a coercive tool by the United States, using lessons drawn from the post-Cold War era (1991-2018).
The volume reveals that despite its status as sole superpower during the post-Cold War period, US efforts to coerce other states failed as often as they succeeded. In the coming decades, the United States will face states that are more capable and creative, willing to challenge its interests and able to take advantage of missteps and vulnerabilities. By using lessons derived from in-depth case studies and statistical analysis of an original dataset of more than 100 coercive incidents in the post-Cold War era, this book generates insight into how the US military can be used to achieve policy goals. Specifically, it provides guidance about the ways in which, and the conditions under which, the US armed forces can work in concert with economic and diplomatic elements of US power to create effective coercive strategies.
This book will be of interest to students of US national security, US foreign policy, strategic studies and International Relations in general.
About the Author
---
Melanie W. Sisson is Senior Fellow with the Stimson Center in Washington, DC, USA.James A. Siebens is a Research Associate with the Stimson Center's Defense Strategy and Planning Program, Washington, DC, USA.Barry M. Blechman co-founded the Stimson Center in 1989, and chaired its board until 2004.