State-Corporate Crime and the Commodification of Victimhood: The Toxic Legacy of Trafigura's Ship of Death (Crimes of the Powerful) (Paperback)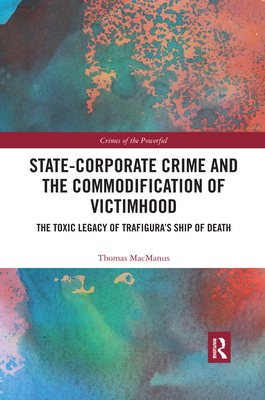 $63.19
This item is backordered and not currently available. Please contact us for an estimated availability date.
Description
---
This book highlights the continuing impunity enjoyed by corporations for large scale crimes, and in particular the crime of toxic waste dumping in Ivory Coast in 2006. It provides an account of the crime, and outlines contributory reasons for the impunity both under the law and from a criminological point of view. Furthermore, the book reveals the retrogressive role of civil society organisations (CSOs) in Ivory coast, contrary to the societal expectations made of 'non-governmental' organisations (NGOs) and CSOs.
This book reveals that in the case of this particular example of state-corporate crime, civil society as an agency of censure and sanction actually played a distinctly retrogressive role. Here, in fact, state and state-corporate crime facilitates corruption within the civil society sphere through a process referred to in the book as the 'commodification of victimhood' and, as a result, ensures that impunity is virtually guaranteed for the corporation and the Ivorian government. This book also examines the failure of international and domestic legal measures to sanction the perpetrators alongside civil society's shortcomings and ultimately advocates a more cautionary approach to civil society's potential to label, censure and sanction large-scale state-corporate crime.
This book will help readers understand the difficulties in sanctioning such crime as well as promoting the theoretical framework of state crime, the understanding of which could lead to the alleviation of human suffering at the hands of criminal states and corporations.
About the Author
---
Thomas MacManus is a Research Fellow and concentrates on the crimes of the powerful. He is based at the International State Crime Initiative (ISCI, statecrime.org) in the Department of Law at Queen Mary University of London (www.law.qmul.ac.uk/). He is admitted as an Attorney-at-Law (New York) and solicitor (Ireland). He is an editor in chief of State Crime Journal, and joint editor of Amicus Journal: Assisting Lawyers for Justice on Death Row. He is a director of the Colombia Caravana (www.colombiancaravana.org.uk/).