Untangling with Value Stream Mapping: How to Use Vsm to Address Behavioral and Cultural Patterns and Quantify Waste in Multifunctional and Nonrepetiti (Paperback)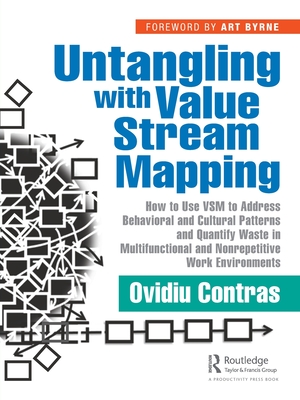 $62.44

Warehouse, In Stock | Usually Ships in 1-5 Days | New
Description
---
The standard belief in books about Lean initiatives and value stream mapping (VSM) is that VSM works well on transactional processes (which are primarily linear processes where handoffs are well defined and the outcome is known) and it is useful for repetitive projects or products. This book counters these statements by clearly demonstrating how a VSM exercise can be successfully performed in complex, multifunctional environments involving nonrepetitive work, such as aircraft new product development, custom engineering, software development and project management.
The methodology described in this book is the result of more than ten years of refinement and is based on practice while working with multidisciplinary teams and helping them achieve their goals. This is a novel approach to capturing the information flow in a VSM by recognizing it as the place where most of the issues are generated, especially for the previously mentioned environments and the fact that classical mapping methodologies (including classical VSM) do not capture it well.
The VSM methodology that the author developed goes to the essence of a VSM (activities flow, information flow, timeline), uses conventional VSM icons and some custom information flow icons and helps the following:
Quantifying waste (VSM literature gap)
Making disconnects visible (VSM literature gap)
Making behavioral and cultural patterns visible (VSM literature gap)
If the steps are followed thoroughly, then lead time reductions ranging from 60% to 88% are achieved, along with increased availability of resources, more output with the same resources, projects delivered on time and, most importantly, colleagues embracing the Lean mindset, which greatly contributes to maintaining the gains.
Essentially, this book helps readers perform a VSM in environments where multiple stakeholders interact with each other to deliver a product or a service with unclear aspects, such as what the product/service is, how all involved can contribute to the product or service transformation and how the interactions between them occur.
For example, the products/services targeted in this book include test results, analysis results, a custom design, a process, a methodology, an engineering change, integrated enterprise software and engineering drawings.
Concurrently, this book helps readers map behavioral patterns, such as micromanagement, and company culture aspects, such as excessive governance and decisions by committee.
About the Author
---
Ovidiu Contras is a Lean Coach and author of "Navigating the Lean Transformation, book covering some of his personal experiences in Lean transformation efforts, not as a consultant, but as a continuous improvement employee. His career started as a design engineer for high temperatures industrial equipment. Since 2000 he is actively involved in Lean Transformation efforts as Lean Black Belt, Continuous Improvement Manager, Kaizen Promotion Officer or Lean Coach in different environments: Manufacturing, Engineering, Operations, working for companies in Aerospace, Consumer Goods and Research & Development. Ovi is specialized in the application of Lean principles in New Product Development with complex, multifunctional environments where the product is hard to see and the work is non-repetitive.