Developing a Model of Islamic Psychology and Psychotherapy: Islamic Theology and Contemporary Understandings of Psychology (Hardcover)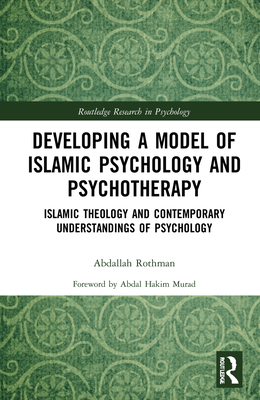 This item is backordered and not currently available. Please contact us for an estimated availability date.
Description
---
At a time when there is increasing need to offer psychotherapeutic approaches that accommodate clients' religious and spiritual beliefs, and acknowledge the potential for healing and growth offered by religious frameworks, this book explores psychology from an Islamic paradigm and demonstrates how Islamic understandings of human nature, the self, and the soul can inform an Islamic psychotherapy.
Drawing on a qualitative, grounded theory analysis of interviews with Islamic scholars and clinicians, this unique volume distils complex religious concepts to reconcile Islamic theology with contemporary notions of psychology. Chapters offer nuanced explanations of relevant Islamic tradition and theological sources, consider how this relates to Western notions of psychotherapy and common misconceptions, and draw uniquely on first-hand data to develop a new theory of Islamic psychology. This, in turn, informs an innovative and empirically driven model of practice that translates Islamic understandings of human psychology into a clinical framework for Islamic psychotherapy.
An outstanding scholarly contribution to the modern and emerging discipline of Islamic psychology, this book makes a pioneering contribution to the integration of the Islamic sciences and clinical mental health practice. It will be a key resource for scholars, researchers, and practicing clinicians with an interest in Islamic psychology and Muslim mental health, as well as religion, spirituality and psychology more broadly.
About the Author
---
Abdallah Rothman is Executive Director of the International Association of Islamic Psychology, US and Principal at Cambridge Muslim College, UK.