The History and Tradition of Accounting in Italy (Routledge Studies in Accounting) (Paperback)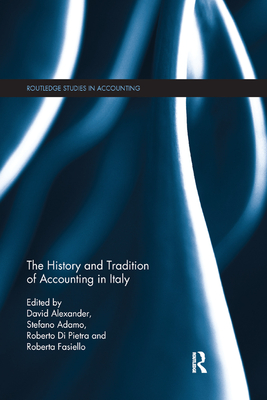 $61.19

Warehouse, In Stock | Usually Ships in 1-5 Days | New
Description
---
Italian accounting has a long and honourable tradition of theoretical and applied analysis of the accounting and reporting function, perceived and defined much more broadly than in the Anglo-Saxon tradition. The high point of this perhaps, is the creation of what is known as Economia Aziendale (EA). The antecedents, genesis and later developments are presented here in detail by highly knowledgeable specialists in the field.
EA takes as a prerequisite the necessity of the business (entity/azienda) to ensure its own long-run survival. This requires that the necessary resources are retained and preserved, so operating capital maintenance, by definition future-oriented, is essential. It requires a focus on the particular business organization, entity-specific and consistent with today's notion of the business model. Entity-specific information relevant to current and future cash flows is a necessary pre-requisite for ensuring long-run survival, which historical cost accounting, or fair value (being market-specific not entity-specific) satisfactorily achieve.
Flexibility of valuation and of reporting, always relevant to the specific asset at the specific time in the specific place, is a necessary condition for effective management. This is exactly the focus of EA and its analysis and tradition. Scholars and advanced students of international regulation and accounting, as well as accounting history, will find this an invaluable guide to a vibrant, scholarly tradition of great practical relevance today.