American Gun: The True Story of the AR-15 (Hardcover)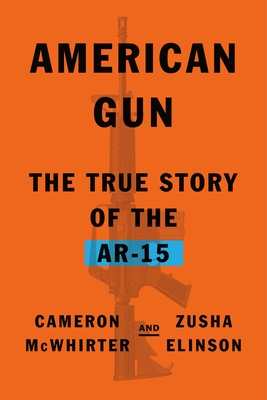 List Price: $32.00
Our Price: $27.20
(Save: $4.80 15%)
Warehouse, In Stock | Usually Ships in 1-5 Days | New
Description
---
"A magisterial work of narrative history and original reportage . . . You can feel the tension building one cold, catastrophic fact at a time . . . A virtually unprecedented achievement." —Mike Spies, The New York Times Book Review (Editors' Choice)

A Washington Post top 50 nonfiction book of 2023 | Shortlisted for the Zócalo Book Prize

One of The New York Times's 33 Nonfiction Books to Read This Fall | One of Esquire's best books of fall | A Kirkus Reviews best nonfiction book of 2023

Named a most anticipated book of the fall by The Washington Post, Los Angeles Times, and Bloomberg

American Gun: The True Story of the AR-15 presents the epic history of America's most controversial weapon.

In the 1950s, an obsessive firearms designer named Eugene Stoner invented the AR-15 rifle in a California garage. High-minded and patriotic, Stoner sought to devise a lightweight, easy-to-use weapon that could replace the M1s touted by soldiers in World War II. What he did create was a lethal handheld icon of the American century.

In American Gun, the veteran Wall Street Journal reporters Cameron McWhirter and Zusha Elinson track the AR-15 from inception to ubiquity. How did the same gun represent the essence of freedom to millions of Americans and the essence of evil to millions more? To answer this question, McWhirter and Elinson follow Stoner—the American Kalashnikov—as he struggled mightily to win support for his invention, which under the name M16 would become standard equipment in Vietnam. Shunned by gun owners at first, the rifle's popularity would take off thanks to a renegade band of small-time gun makers. And in the 2000s, it would become the weapon of choice for mass shooters, prompting widespread calls for proscription even as the gun industry embraced it as a financial savior. Writing with fairness and compassion, McWhirter and Elinson explore America's gun culture, revealing the deep appeal of the AR-15, the awful havoc it wreaks, and the politics of reducing its toll. The result is a moral history of contemporary America's love affair with technology, freedom, and weaponry.

Includes 8 pages of black-and-white images.
About the Author
---
Cameron McWhirter is a national reporter for The Wall Street Journal, based in Atlanta. He has covered mass shootings, violent protests and natural disasters across the South. He is also the author of Red Summer: The Summer of 1919 and the Awakening of Black America. Previously, he reported for other publications in the U.S., as well as Bosnia, Iraq, and Ethiopia.

Zusha Elinson is a reporter for The Wall Street Journal, where he covers America's gun culture and industry. He is based in Northern California.
Praise For…
---
"A magisterial work of narrative history and original reportage . . . [Written] in calm, precise language that allows the authors' exhaustive research to shine through . . . You can feel the tension building one cold, catastrophic fact at a time . . . Among the authors' feats of reportage was getting gun company executives and entrepreneurs to speak candidly on the record, a virtually unprecedented achievement . . . American Gun lays out the unvarnished truth." —Mike Spies, The New York Times Book Review (Editors' Choice)

"A deeply reported, engrossing account . . . American Gun immerses in shifting politics and their exploitation by the firearms industry . . . [The book] adds valuable context as we reckon with the indelible and ongoing impact of a uniquely American gun." —Mark Follman, The Washington Post

"Riveting . . . Indispensable . . . Brilliant . . . A particularly powerful new book . . . [American Gun] is packed with characters and plot turns." —Charles Kaiser, The Guardian

"Riveting . . . This book is not to be missed." —Esquire

"The authors are meticulous in the details they recount . . . American Gun is a fascinating social history." —The Economist

"Reading the second half of American Gun is like watching a Shakespearean tragedy . . . The book is heartbreaking . . . A lucid, straightforward, and well-researched and -reported work." —Colin Dickey, The New Republic

"[McWhirter and Elinson] have done a masterful and damning job tracing the birth and development, and rampant misuse, of the AR-15, and there are heartbreaking stories elegantly told of the destruction this weapon has wrought on families and towns across the nation . . . Poignant." —Air Mail

"McWhirter and Elinson offer a comprehensive, even-handed look at the AR-15's history and the debate over gun violence . . . [Their] well-reported book is vital for anyone who wants to understand how Stoner's creation transformed over time into what the authors call the 'fulcrum of America's great gun divide.'" —Andrew Demillo, Associated Press

"[A] superb history . . . [American Gun] is a meticulously researched and impressively informed book . . . A riveting exploration of the cost of the nation's fascination with an iconic weapon." —Kirkus Reviews (starred review)

"A captivating tale of unintended consequences . . . The authors put a human face on a politically charged story. The result is a fascinating genealogy of a weapon that has become the flash point of the contemporary gun control debate." —Publishers Weekly

"American Gun is an engrossing read. It is both a revealing biography and a thorough autopsy of a historical figure that resides in millions of American homes: the AR-15 rifle. Created in a garage but worshipped as if born in a manger, the AR-15 has become destructive weapon of choice in many mass killings and a source of heartbreak that gnaws at the souls of millions of Americans every day. Through exhaustive research and superb writing, Cameron McWhirter and Zusha Elinson haven't missed an important moment in the life of this weapon—and they answer the question: what would the inventor of the AR-15 think about the monstrous ways it is being used today?" —Hank Klibanoff, Pulitzer Prize–winning co-author of The Race Beat

"American Gun is an unforgettable story of American ingenuity and mayhem, built with hard-core reporting and gripping prose. This is social history at its finest." —Jonathan Eig, author of King: A Life

"Cameron McWhirter and Zusha Elinson have written the definitive biography of the AR-15, a weapon that has been demonized, deified, and fetishized in the never-ending American gun debate. This book should be of vital interest to both gun-rights advocates and those who would ban the AR-15 as the instrument of ruthless death at schools, Walmarts, and grocery stores. At this fraught moment, there is no more compelling symbol of the unique American fascination with—and horror over—firearms." —Paul M. Barrett, author of Glock: The Rise of America's Gun