Manywhere: Stories (Hardcover)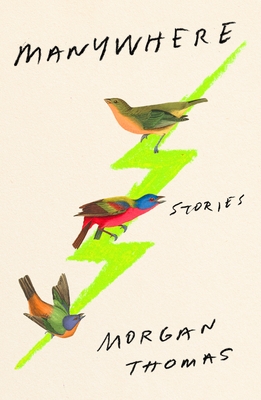 List Price: $26.00
Our Price: $22.10
(Save: $3.90 15%)
Description
---
FINALIST FOR THE PEN/ROBERT W. BINGHAM PRIZE, THE LOS ANGELES TIMES ART SIEDENBAUM AWARD FOR FIRST FICTION, THE 2022 LAMBDA LITERARY PRIZE FOR TRANSGENDER FICTION, AND THE 2023 PUBLISHING TRIANGLE EDMUND WHITE AWARD FOR DEBUT FICTION

"These breathlessly imaginative stories are all the more remarkable for the elegant, organic ways in which the author unhooks language from its entrenched assumptions about men and women." —The New York Times Book Review

Morgan Thomas's Manywhere features lush and uncompromising stories about characters crossing geographical borders and gender binaries.

The nine stories in Morgan Thomas's shimmering debut collection witness Southern queer and genderqueer characters determined to find themselves reflected in the annals of history, whatever the cost. As Thomas's subjects trace deceit and violence through Southern tall tales and their own pasts, their journeys reveal the porous boundaries of body, land, and history, and the sometimes ruthless awakenings of self-discovery.

A trans woman finds her independence with the purchase of a pregnancy bump; a young Virginian flees their relationship, choosing instead to immerse themself in the life of an intersex person from Colonial-era Jamestown. A writer tries to evade the murky and violent legacy of an ancestor who supposedly disappeared into a midwifery bag, and in the uncanny title story, a young trans person brings home a replacement daughter for their elderly father.

Winding between reinvention and remembrance, transition and transcendence, these origin stories resound across centuries. With warm, meticulous emotional intelligence, Morgan Thomas uncovers how the stories we borrow to understand ourselves in turn shape the people we become. Ushering in a new form of queer mythmaking, Manywhere introduces a storyteller of uncommon range and talent.
About the Author
---
Morgan Thomas's work has appeared in The Atlantic, the Kenyon Review, American Short Fiction, The Yale Review, Electric Literature, and StoryQuarterly, where their story won the 2019 Fiction Prize. They are the recipient of a Bread Loaf Work-Study Grant, a Fullbright grant, the Penny Wilkes Scholarship in Writing and the Environment, and the inaugural Southern Studies Fellowship in Arts and Letters. They have also received fellowships from the Sewanee Writers' Conference and the Arctic Circle. A graduate of the University of Oregon MFA program, they live in Portland.
Praise For…
---
"Thomas writes in a musical, incantatory style that approaches poetry . . . Thomas takes extraordinary care with syntax to let queer characters fully express themselves on the page. It's almost as if Thomas needed to create a new language to tell these stories; ours is still too binary." —Claire Oshetsky, The New York Times Book Review

"By projecting their characters desires' onto sketches of historical figures, Thomas has created their own archive . . . They remind us how the past was once the present, open to all possibilities until one choice flooded the horizon." —Grace Byron, The A.V. Club

"Thomas' breathtaking prose sings while somehow also being precise and measured. More than once while reading, I gasped . . . More than once, I was angry at Thomas for being so talented, jealous that I'd never write fiction this well, disappointed that there weren't 25 more stories to read. More than once, I was moved to tears." —Abeni Jones, Autostraddle

"At once fantastical and yet utterly true . . . the stories here pack a combined punch of entrancing prose examining gender, history, obsession, race, bodies, and all the mysteries within these words." —Sarah Neilson, Shondaland

"Comic and melancholy, Thomas' debut collection is about people preoccupied with their inchoate desires, wanting to feel a sense of arrival with no fixed destination." —Michelle Hart, Electric Literature

"Each story touches on the mundane struggles people face, exploring what it's like to be an outsider. They manage to zero in on the gender-facet of identity taken for granted by many cis people. The voices here feel new and unheard of, unheard from." —Konstantin Rega, Southern Review of Books

"Glittering . . . Thomas's rich storytelling . . . lies less in the specificity of gender identities, but more in how they journey towards their own self-understanding." —Lauren Carpenter, Virginia Living

"Though the nine stories within [Manywhere] are not linked in character or plot, they are woven from the same cloth. Combining astute research, invention, and an endlessly imaginative inquisitiveness, taken together they create a rich tapestry of stories, each with its own vivid threadwork . . . Throughout the collection, Thomas asserts themself as a writer of thematic breadth and imaginative depth. The writing, too, is consistently impressive: acerbic dialogue sits side by side with lyrical passages that almost read as prose poems." —Giancarlo Latta, Chicago Review of Books

"Keen and coruscating . . . every story [in Manywhere] feels essential . . . Thomas writes with a beautiful command of syntax and cadence, their sentences accruing with a propulsive energy into stories whose tones feel exciting and urgent." —Kathleen Rooney, LIBER

"The characters in these stories feel fully alive; they reveal their rich and endlessly vibrant interiors through indefatigable exploration and textured thoughts. As inventive as some of Thomas' storytelling decisions can be, they are never precious or self-indulgent but serve to cast light on the characters' complex and ever shifting desires. Innovative stories that probe the ineluctable bond between storytelling and identity." —Kirkus (starred review)

"[A] visionary and keenly observed debut . . . Throughout, Thomas renders their characters' explorations in rhythmic litanies . . . [Thomas] profoundly illuminates how the characters come by the stories they tell and those they choose to tell themselves." —Publishers Weekly (starred review)

"Profound . . . In nine remarkable stories, Thomas adamantly and sublimely commits four centuries of the genderqueer/trans existence to the page . . . Theirs is an unpredictable perspective, ready to illuminate and beguile readers." —Shelf Awareness

"Wonderful stories. Impressive range. Delightfully, compellingly queer." —Roxane Gay (via Goodreads)

"Each of the stories in Manywhere is so surprising, with such range. A gorgeous chorus of voices joining to sing the vision of a singular and exciting artist." —Torrey Peters, author of Detransition, Baby

"Sparkling, imaginative, and inventive, these stories powerfully honor the lives of people attempting to do something that is as difficult as it is profound: to live according to their own essential rhythms, to the longings of their true, authentic selves. Rich in beauty and insight, and generous in spirit, this work feels genuinely, thrillingly new." –Karen Thompson Walker, author of The Dreamers

"Morgan Thomas is an artist of landscape, from the humid peculiarities of the American South, to the bodies and imaginations of these urgent, searching characters. I was awed by the kinetic, alive, innovative, and spell-casting stories in Manywhere, a debut collection that reads like an magnum opus." —Laura van den Berg, author of I Hold a Wolf by the Ears

"Each story here is a gem, glimmering and precious to behold, but gathered together, Manywhere is a profusion of diamonds. The book is very queer, very well-written, and very goddamn good. Morgan Thomas is a wildly talented writer and Manywhere is a knockout." —Kristen Arnett, author of With Teeth

"Manywhere is a kaleidoscopic collection that imagines queer pasts, presents, and futures with empathy, transformative language, and brilliant craft. Each story contains an expansive sense of history, place, and possibility. Morgan Thomas' innovative storytelling creates queer lineages and a stunning plurality of voices, showing us that a collection can also be a community." —K-Ming Chang, author of Bestiary

"A riveting collection of stories . . . I am particularly drawn to Thomas's exploration of desire and belonging, and the immersive spaces (physical, historical, psychological) their characters move through." —Elinam Agbo, Kenyon Review