Hardwiring Happiness: The New Brain Science of Contentment, Calm, and Confidence (Hardcover)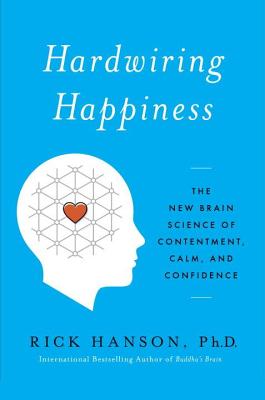 List Price: $26.00
Our Price: $22.10
(Save: $3.90 15%)
Description
---
With New York Times bestselling author, Dr. Hanson's four steps, you can counterbalance your brain's negativity bias and learn to hardwire happiness in only a few minutes each day. 

Why is it easier to ruminate over hurt feelings than it is to bask in the warmth of being appreciated? Because your brain evolved to learn quickly from bad experiences and slowly from good ones, but you can change this.
 
Life isn't easy, and having a brain wired to take in the bad and ignore the good makes us worried, irritated, and stressed, instead of confident, secure, and happy. But each day is filled with opportunities to build inner strengths and Dr. Rick Hanson, an acclaimed clinical psychologist, shows what you can do to override the brain's default pessimism.
 
Hardwiring Happiness lays out a simple method that uses the hidden power of everyday experiences to build new neural structures full of happiness, love, confidence, and peace. You'll learn to see through the lies your brain tells you. Dr. Hanson's four steps build strengths into your brain to make contentment and a powerful sense of resilience the new normal. In just minutes a day, you can transform your brain into a refuge and power center of calm and happiness.
About the Author
---
Rick Hanson, PhD, is a psychologist, senior fellow of UC Berkeley's Greater Good Science Center, and New York Times bestselling author. His books have been published in twenty-nine languages and include Neurodharma, Resilient, Hardwiring Happiness, Buddha's Brain, Just One Thing, and Mother Nurture, with 900,000 copies in English alone. His free weekly newsletter has 150,000 subscribers and his online programs have scholarships available for those with financial need. He's lectured at NASA, Google, Oxford, and Harvard and taught in meditation centers worldwide. An expert on positive neuroplasticity, his work has been featured on the BBC, CBS, NPR, and other major media. He began meditating in 1974 and is the founder of the Wellspring Institute for Neuroscience and Contemplative Wisdom. He loves wilderness and taking a break from emails.
Praise For…
---
"Rick Hanson is a master of his craft, showing us a wise path for daily living in this book. Based in the latest findings of neuroscience, this book reveals that if we understand the brain a little, we can take care of our lives a lot, and make a real difference to our well-being. Here is a book to savor, to practice, and to take to heart." -Mark Williams, Ph.D., Professor, University of Oxford, author of Mindfulness
 
"The cultivation of happiness is one of the most important skills anyone can ever learn. Luckily, it's not hard when we know the way to water and nourish these wholesome seeds, which are already there in our consciousness. This book offers simple, accessible, practical steps for touching the peace and joy that are every person's birthright." -Thich Nhat Hanh, author of Being Peace and Understanding Our Mind
 
"In this remarkable book, one of the world's leading authorities on mind training shows how to cultivate the helpful and good within us. In a beautifully written and accessible way, Rick Hanson offers us an inspiring gift of wise insights and compassionate and uplifting practices that will be of enormous benefit to all who read this book. A book of hope and joyfulness." -Paul Gilbert, Ph.D., O.B.E., Professor, University of Derby, author of The Compassionate Mind
 
"Rick Hanson's new book works practical magic: it teaches you how, in a few seconds, to rewire your brain for greater happiness, peace, and well-being. This is truly a book I wish every human being could read - it's that important. I hope we'll soon be saying to each other, in meetings, over coffee, in crowded subway cars: "Take in the good?" -Jennifer Louden, author of The Woman's Comfort Book
 
"Learning to take in the good is like fully and mindfully breathing in life: it allows us to access our inner strengths, creativity, vitality and love. In his brilliant new book, Rick Hanson gives us the fascinating science behind attending to positive experiences, and offers powerful and doable ways to awaken the deep and lasting wellbeing we yearn for." -Tara Brach, Ph.D., author of Radical Acceptance
 
"Hardwiring Happiness teaches us the life-affirming skills of inverting our evolutionary bias to hold on to the negative in our lives and instead soak in and savor the positive. What better gift can we give our selves or our loved ones than an effective strategy to increase joy through brain-based steps that are both accessible and pleasurable? Bravo" -Daniel J. Siegel, M.D., Clinical Professor, UCLA School of Medicine, author of Mindsight, The Mindful Brain, and Brainstorm
 
"Rick Hanson is brilliant at making complex scientific information about the brain simple. For anyone wanting to decode the black box of the brain and take advantage of its potential, this is the book to read." -Harville Hendrix, Ph.D., co-author of Making Marriage Simple