The Radical Center: The Future of American Politics (Paperback)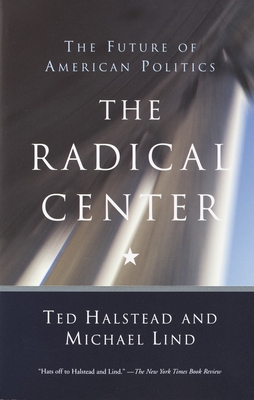 List Price: $16.00
Our Price: $15.20
(Save: $0.80 5%)
Description
---
Record numbers of Americans describe themselves as "independents" and reject the conventional agendas of Left and Right. In this widely acclaimed book, Ted Halstead and Michael Lind explain why today's ideologies and institutions are so ill-suited to the Information Age, and offer a groundbreaking blueprint for updating all sectors of America society. Taking on partisans and experts on both sides of the political divide, they propose far-reaching reforms for the way we provide health and retirement security, collect taxes, organize elections, enforce civil rights, and educate our children.

Twice before the United States has dramatically reconfigured itself, shifting from an agrarian to an industrial society after the Civil War and successfully adapting to the massive technological and demographic changes of the early twentieth century during the New Deal era. Uniting a sweeping historical vision with bold policy proposals, The Radical Center shows us how to reinvent our nation once again so that all Americans can reap the benefits of the Information Age.
About the Author
---
Ted Halstead is founder and president of the New America Foundation (www.newamerica.net), one of the nation's most successful new public policy institutes. He writes frequently for The New York Times, Washington Post, Atlantic Monthly, and Los Angeles Times.

Michael Lind, a senior fellow of the New America Foundation, is the bestselling author of a number of books, including The Next American Nation (1995). He has been an editor or staff writer at The New Yorker, Harper's Magazine, and The National Interest.
Praise For…
---
"Hats off to Halstead and Lind for . . . rising above policy blather and advocating some unconventional things." —The New York Times Book Review

"A political manifesto worthy of the Information Age."–Senator John McCain

"A provocative read . . . The book demonstrates that the center need not be a tepid or uncreative spot on the political spectrum. It can be an unpredictable place where intelligent people stir up controversy and offer genuinely unorthodox proposals for change." –The Washington Post Book World

"A bold and refreshing perspective on the challenges aheadÉ This is a short, pithy book, but it packs a powerful intellectual punch." –The Washington Times

" Part historical tract, part policy agenda, part visionary manifesto, The Radical Center is . . . a bracing alternative to the poll-obsessed, cliché-ridden volumes that roll out of Washington think tanks." –New York Observer