The Golden Spruce: A True Story of Myth, Madness, and Greed (Hardcover)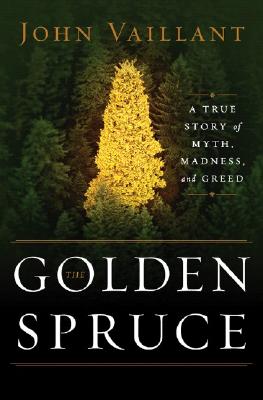 List Price: $24.95
Our Price: $22.46
(Save: $2.50 10%)
Description
---
A tale of obsession so fierce that a man kills the thing he loves most: the only giant golden spruce on earth.
As vividly as Jon Krakauer put readers on Everest, John Vaillant takes us into the heart of North America's last great forest, where trees grow to eighteen feet in diameter, sunlight never touches the ground, and the chainsaws are always at work.
When a shattered kayak and camping gear are found on an uninhabited island, they reignite a mystery surrounding a shocking act of protest. Five months earlier, logger-turned-activist Grant Hadwin had plunged naked into a river in British Columbia's Queen Charlotte Islands, towing a chainsaw. When his night's work was done, a unique Sitka spruce, 165 feet tall and covered with luminous golden needles, teetered on its stump. Two days later it fell.
The tree, a fascinating puzzle to scientists, was sacred to the Haida, a fierce seafaring tribe based in the Queen Charlottes. Vaillant recounts the bloody history of the Haida and the early fur trade, and provides harrowing details of the logging industry, whose omnivorous violence would claim both Hadwin and the golden spruce.
About the Author
---
John Vaillant's acclaimed, award-winning nonfiction books, The Golden Spruce and The Tiger, were national bestsellers. His debut novel, The Jaguar's Children, was a finalist for the Rogers Writers' Trust Fiction Prize and the International Dublin Literary Award. Vaillant has received the Governor General's Literary Award, the BC National Award for Canadian Non-Fiction, the Windham-Campbell Literature Prize, and the Pearson Writers' Trust Prize for Nonfiction. He has written for, among others, The New Yorker, the Atlantic, National Geographic, and the Walrus. He lives in Vancouver.