Reality+: Virtual Worlds and the Problems of Philosophy (Hardcover)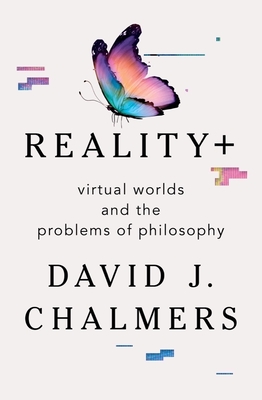 List Price: $32.50
Our Price: $27.63
(Save: $4.88 15%)
Warehouse, In Stock | Usually Ships in 1-5 Days | New
Description
---
One of the Washington Post's Best Nonfiction Books of 2022



A leading philosopher takes a mind-bending journey through virtual worlds, illuminating the nature of reality and our place within it.
Virtual reality is genuine reality; that's the central thesis of Reality+. In a highly original work of "technophilosophy," David J. Chalmers gives a compelling analysis of our technological future. He argues that virtual worlds are not second-class worlds, and that we can live a meaningful life in virtual reality. We may even be in a virtual world already.
Along the way, Chalmers conducts a grand tour of big ideas in philosophy and science. He uses virtual reality technology to offer a new perspective on long-established philosophical questions. How do we know that there's an external world? Is there a god? What is the nature of reality? What's the relation between mind and body? How can we lead a good life? All of these questions are illuminated or transformed by Chalmers' mind-bending analysis.
Studded with illustrations that bring philosophical issues to life, Reality+ is a major statement that will shape discussion of philosophy, science, and technology for years to come.
About the Author
---
David Chalmers is a professor of philosophy and neural science and co-director of the Center for Mind, Brain and Consciousness at New York University. He wrote The Conscious Mind, The Character of Consciousness, and Constructing the World, and lives in New York.
Praise For…
---
Reality+: Virtual Worlds and the Problems of Philosophy, by the Australian philosopher David J. Chalmers, is a highly lucid and thought-provoking exploration of such matters—from René Descartes's thought experiment about an evil demon controlling the inputs into his brain, to the modern "simulation hypothesis" that asks whether we are already living in an alien metaverse without knowing it. 

— Steven Poole - The Wall Street Journal

[A] stunning success. [Reality+] is well written, cleverly illustrated, and packed with useful distinctions and powerful arguments. It makes excellent use of both history and contemporary culture to help the general reader understand its key concepts.

— John Schwenkler - Commonweal

. . . Reality+ is frequently weird, wild and wonderful; it captivates the common reader by refusing to condescend.

— Jess Keiser - The Washington Post

Far and away the most credible articulation of simulation theory to date.
— Jason Kehe - Wired

In this accessible yet thought-provoking book, readers will encounter everything from Plato's allegory of the cave and John Wheeler's it-from-bit hypothesis to how mind and body might interact in virtual worlds, whether reality is a mathematical structure, and whether we might just be Boltzmann brains floating in a dream world. Chalmers also tackles techno-centric questions like whether smartphones extend our minds, whether the Internet is making us smart or stupid, the threat of deepfakes and alternative facts, and whether there can be an objective reality in a multiverse of virtual worlds.
— Jennifer Ouellette - Ars Technica

[A] brain-bending new book by the philosopher David Chalmers—Reality+: Virtual Worlds and the Problem of Philosophy—has turned me into a hard-core simulationist. After reading and talking to Chalmers, I've come to believe that the coming world of virtual reality might one day be regarded as every bit as real as real reality. 

— Farhad Manjoo - The New York Times

[R]ich, scintillating . . . [Chalmers] wrestles with how age-old philosophical conundrums can be reinterpreted in the age of Reality+. 
— John Thornhill - Financial Times

[A] sprawling, brain-tenderising beast of a book—but a hugely entertaining one at that.
— Kit Wilson - The Times

Chalmers is a joy: an exuberant guide through challenging terrain, quick with anecdotes and arguments, wit and wild ideas. 
— Kieran Setiya - The Times Literary Supplement

Everyone should read this important book to understand where we may be heading and how it will be rationalized. 
— Josh Glancy - The Sunday Times

Chalmers' central idea, that "there is more to reality than we thought", is seductive, and I was surprised to find his arguments delightfully—or perhaps worryingly—convincing. He has taken a subject most people would dismiss as pure science fiction and produced a brilliant and very readable philosophical investigation.
— PD Smith - The Guardian

Crafted with the general reader in mind, this is an object lesson in philosophical reasoning and a bold, often awe-inspiring discussion of its implications. Philosophy-minded readers weaned on The Matrix and ready for the metaverse will want to take a look.

— Publishers Weekly

A David Chalmers book is a competition. On the one hand the writing is so clear and engaging that you want to keep turning pages; on the other, the ideas are so surprising and profound that you are continually stopping to think about them. Reality+ is a treasure trove of provocative reflections on cosmology, consciousness, artificial intelligence, ethics, and more. Reading it will change the way you think about the universe.

— Sean Carroll, author of Something Deeply Hidden: Quantum Worlds and the Emergence of Spacetime

Fasten your seatbelt and put your helmet on, David Chalmers is going to take you on an amazing trip. Reality+ is wild, profound, and playful, placing famous arguments from the history of philosophy next to surprising observations about video games. Cleverly disguised as light reading, this book carries a large payload of new ideas about existence, knowledge, and what makes life worth living.

— Jennifer Nagel, University of Toronto

As humanity enters a brave new world of artificial superintelligence and computer-generated virtual realities, how can we humble hunter-gatherers, descended from cavemen, begin to grasp our astonishing technological future? The answer lies in this book. We must think about the ultimate nature of reality. In Reality+ David Chalmers provides the roadmap to your future.

— Susan Schneider, NASA/Library of Congress Chair in Astrobiology, Exploration, and Scientific Innovation, and author of Artificial You: AI and the Future of Your Mind

A stunning achievement. In effortless prose David Chalmers explores new ways to think about everything from consciousness to computation, deities to democracy. Reality+ shows time and again how familiar topics take on interesting new forms when viewed through the lens of virtual reality.

— Scott Sturgeon, author of The Rational Mind

What is real anyway? Exploring the deepest doubts about reality from Zhuangzi to Descartes, David J. Chalmers stirs our own doubts and leads us into the real worlds of future virtual reality. A gripping book.
— Susan Blackmore, author of The Meme Machine and Seeing Myself