Mangrove Lightning (A Doc Ford Novel #24) (Hardcover)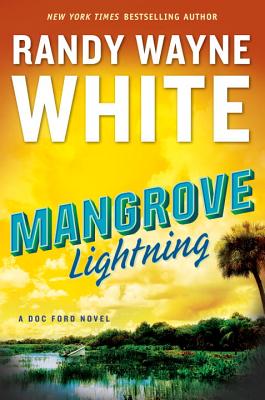 List Price: $27.00
Our Price: $22.95
(Save: $4.05 15%)
Other Books in Series
This is book number 24 in the A Doc Ford Novel series.
Description
---
The ghosts of a 1925 multiple murder stalk Doc Ford in this electrifying novel in the New York Times–bestselling series.
 
Doc Ford has been involved in many strange cases. This may be one of the strangest. A legendary charter captain and guide named Tootsie Barlow has come to him, muttering about a curse. The members of his extended family have suffered a bizarre series of attacks, and Barlow is convinced it has something to do with a multiple murder in 1925, in which his family had a shameful part.

Ford doesn't believe in curses, but as he and his friend Tomlinson begin to investigate, following the trail of the attacks from Key Largo to Tallahassee, they, too, suffer a series of near-fatal mishaps. Is it really a curse? Or just a crime spree? The answer lies in solving a near-hundred-year-old murder...and probing the mind of a madman.
About the Author
---
This is Randy Wayne White's 24th Doc Ford book, after Deep Blue and Cuba Straits. He has also had four collections of his columns for Outside magazine and elsewhere published—and the new Hannah Smith novels Gone, Deceived, Haunted, and Seduced. In 2002, a one-hour documentary film titled The Gift of the Game, about White's trip to Cuba to find the remnants of the Little League teams founded by Ernest Hemingway in the days before Castro, won the "Best of the Fest" award from the 2002 Woods Hole Film Festival, then was bought by PBS and broadcast station by station in the spring and summer of 2003. A veteran fishing guide who at one time had his own local PBS show, White lives in an old house on an Indian mound in Pineland, Florida.
Praise For…
---
Praise for Mangrove Lightning

"White comes up with a novel way to re-examine historical crimes: reincarnate the criminals as fictional present-day killers. It's a crazy idea, and some crazy developments trail in its wake, but it works."—Kirkus Reviews
 
"Showcases a quirky, ever-endearing cast…and, of course, White's natural facility for old-school action. [P]lus there's a spectacular face-off at the end …that will have fans remembering some of John D. MacDonald's grisliest villains. Hugely entertaining, especially for longtime fans."—Booklist

Praise for Deep Blue

"[A] high-tech, grand-scale adventure. White makes particularly good use of [the] always-potent crime-fiction theme—the knight errant who inadvertently brings trouble home to those he loves....This twenty-third Doc Ford novel will quickly assume its reserved seat on the New York Times and most other best-seller lists."—Booklist (starred review)

"Lively characters, enough action for three summer blockbusters, and plenty of plot twists make this a great addition to the bestselling series."—Publishers Weekly

"As with every Doc Ford story, the writing is tight and the story fast-paced...[Fans of] thriller heroes from James Bond to Jason Bourne will find a lot to like."—Associated Press

"A trip to the Gulf Coast with Doc Ford is never dull...and White doesn't skimp on the action....This marine biologist increasingly lets his clandestine life as a government operative take him away from his quiet Sanibel Island home [and White] continues to find fresh ways to bring Ford into the chaos of world politics."—South Florida Sun-Sentinel

"White continues to impress with detail and description of the high-tech marvels that have become a part of everyman's life....Deep Blue is the author at his best. You will want to say 'He is back,' but he never left." —The Florida Times-Union