Try to Remember (Paperback)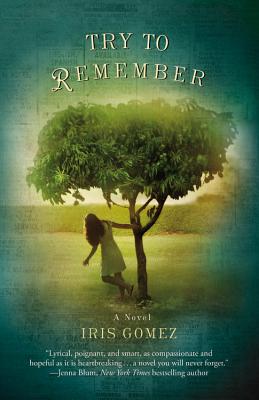 List Price: $18.99
Our Price: $16.90
(Save: $2.09 11%)
Warehouse, In Stock | Usually Ships in 1-5 Days | New
Description
---
"Lyrical, poignant, and smart, as compassionate and hopeful as it is heartbreaking...a novel you will never forget." -- Jenna Blum, New York Times bestselling author of Those Who Save Us

If she tries, Gabriela can almost remember when her father went off to work . . . when her mother wasn't struggling to undo the damage he caused . . . when a short temper didn't lead to physical violence. But Gabi cannot live in the past, not when one more outburst could jeopardize her family's future. So she trades the life of a normal Miami teenager for a career of carefully managing her father's delusions and guarding her mother's secrets. As Gabi navigates her family's twisting path of lies and revelations, relationships and loss, she finds moments of happiness in unexpected places. Ultimately Gabi must discover the strength she needs to choose what's right for her: serving her parents or a future of her own.
About the Author
---
Iris Gomez is an award-winning writer and nationally-recognized expert on the rights of immigrants in the United States. She is the author of two poetry collections, Housicwhissick Blue (Edwin Mellen Press, 2003) and When Comets Rained (CustomWords, 2005), which earned a prestigious national poetry prize from the University of California. Her work is widely published in a variety of literary and other periodicals. A respected public interest immigration lawyer and law school lecturer, she has represented civil rights groups and individuals in high impact cases and won professional awards for her accomplishments -- including a Las Primeras award for Latina trailblazers in Massachusetts. She has frequently been called upon to write and speak on immigration-related topics and has appeared in the media, including on the nationally televised Cristina show and Boston's celebrated bilingual late-night radio program ¡Con Salsa!

An immigrant from Cartagena, Colombia, she spent formative years in Miami, Florida and has also lived in New York City, Michigan, and throughout the Pacific Northwest. She and her family now make their home in the Boston area.
Praise For…
---
"Lyrical, poignant, and smart, as compassionate and hopeful as it is heartbreaking...a novel you will never forget."—New York Times bestselling author Jenna Blum

"This stunning debut offers a fresh and vibrant coming of age novel full of universal truths and dazzling particulars. Gabriela is a character you'll root for and grow to love. TRY TO REMEMBER is a book impossible to forget. I adored every single page."—National Bestselling Author Mameve Medwed

"Poet and immigration lawyer Gomez (When Comets Rained) mines her own experiences in her enthralling fiction debut, the story of a family of Colombian immigrants adjusting to life in '70s-era Florida. Gabriela De la Paz has earned the nickname Auxiliadora ('the Helper') for all her efforts translating and interpreting American culture for her parents. The frustrated daughter of Roberto and Evangelina, Gabi must act far older than her teen years when her Papi, schizophrenic and untreated, can't keep a job and gets into trouble with the police because of his violent behavior. Evangelina must hide her sewing and cleaning jobs to avoid Roberto's wrath (he disapproves of women working) while Gabi's brothers, Manolo and Pablo, fear his physical abuse. Gomez charts Gabi's challenges as she gains confidence, educates herself, and finds inspiration from Lara, a 'modern' woman for whom she babysits, in this intense and sensitive tale with crossover YA appeal. (May)"—Publishers Weekly

"What holds the reader is the drama of each intense home scenario, scary and tender... The clash between traditional immigrant values and feminist

independence is powerful... In her debut novel, Colombian immigrant poet Gomez dramatizes the universal dilemma of a loving family

serving as 'both joy and prison.'"—Booklist

"Far from the stereotypical wisecracking rebel or clueless outsider, Gabi is an irresistible narrator-observant, compassionate, and utterly genuine-trying to balance family loyalty and a yearning to discover 'Who did I dare to be?'"—Karen Holt, O Magazine