Ayn Rand's Anthem: The Graphic Novel (Paperback)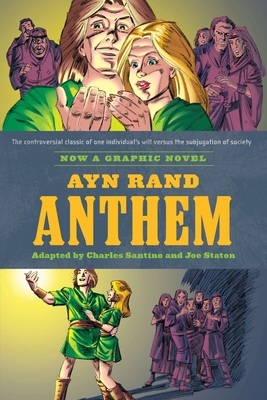 List Price: $15.00
Our Price: $14.25
(Save: $0.75 5%)
Description
---
The controversial classic work of one individual's will versus the subjugation of society-now available as a compelling graphic novel.

In all that was left of humanity there was only one man who dared to think, seek, and love. He, Equality 7-2521, would place his life in jeopardy. For his knowledge was regarded as a treacherous blasphemy. He had rediscovered the lost and holy word..."I".
About the Author
---
Charles Santino is a writer and packager of comic books and graphic novels through his studio Marshall Holt Entertainment, LLC.

Born February 2, 1905, Ayn Rand published her first novel, We the Living, in 1936. Anthem followed in 1938. It was with the publication of The Fountainhead (1943) and Atlas Shrugged (1957) that she achieved her spectacular success. Rand's unique philosophy, Objectivism, has gained a worldwide audience. The fundamentals of her philosophy are put forth in three nonfiction books, Introduction to Objectivist Epistemology, The Virtues of Selfishness, and Capitalism: The Unknown Ideal. They are all available in Signet editions, as is the magnificent statement of her artistic credo, The Romantic Manifesto.