Berlin at War (Paperback)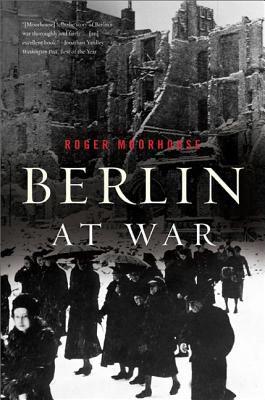 List Price: $19.99
Our Price: $18.99
(Save: $1.00 5%)
Description
---
The thrilling and definitive history of World War I in the Middle East

By 1914 the powers of Europe were sliding inexorably toward war, and they pulled the Middle East along with them into one of the most destructive conflicts in human history. In The Fall of the Ottomans, award-winning historian Eugene Rogan brings the First World War and its immediate aftermath in the Middle East to vivid life, uncovering the often ignored story of the region's crucial role in the conflict. Unlike the static killing fields of the Western Front, the war in the Middle East was fast-moving and unpredictable, with the Turks inflicting decisive defeats on the Entente in Gallipoli, Mesopotamia, and Gaza before the tide of battle turned in the Allies' favor. The postwar settlement led to the partition of Ottoman lands, laying the groundwork for the ongoing conflicts that continue to plague the modern Arab world. A sweeping narrative of battles and political intrigue from Gallipoli to Arabia, The Fall of the Ottomans is essential reading for anyone seeking to understand the Great War and the making of the modern Middle East.
About the Author
---
Roger Moorhouse studied history at the University of London and is a visiting professor at the College of Europe in Warsaw. He is the author of several books on World War II history, including Berlin at War (shortlisted for the Hessell-Tiltman Prize) and The Devils' Alliance. He lives in the United Kingdom.
Praise For…
---
Christian Science Monitor
"[D]espite the voluminous literature about the rise and fall of Nazi Germany, there have been no books that analyzed what civilian life was like for those who lived in Berlin during the war. Given this, Berlin at War…is overdue and welcome.... [T]his carefully researched study is the story of ordinary civilians who were very much in the middle of the fighting for extended periods of time. There are fresh insights on every page and even readers very knowledgeable about World War II will learn a great deal from this important and insightful volume."

Post-Bulletin (Rochester, MN)
"[R]iveting.... Berlin at War is a masterfully written and necessary addition to the ever-expanding shelf of books about World War II."

Washington Times
"Berlin at War is an extensively researched and absorbing account of the city that went from being the host of the 1936 Olympics to being a pile of rubble less than a decade later."

TucsonCitizen.com
"[T]his remarkable book vividly shows what it was like to live in Berlin from 1939 through 1945. From the jubilant, extravagant celebrations for Hitler's 50th birthday in 1939 until the Soviet invasion six years later, this is historical reporting at its very best."

Herald (Scotland)
"Intelligent and absorbing.... This is very much a people's history where the backbone of the narrative has not been supplied by the wider military progress of the war but by the response of many ordinary Berliners. Moorhouse has dug deeply and diligently and, in so doing, he has provided a truly innovative history."

Jonathan Yardley, Washington Post
"[Moorhouse] tells the story of Berlin's war thoroughly and fairly. He focuses as much as possible on ordinary citizens rather than Nazi kingpins and apparatchiks, and he leaves little doubt that this was a war few Berliners had wanted and from which all of them suffered.... Now Berlin has regained its standing as one of the world's great cities. That it started at ground zero is made all too clear by this excellent book."

Irish Times
"The greatest achievement of Moorhouse's book is that it manages to capture the complexities and contradictions of life in Hitler's Germany, illuminating the experiences of those who were victims, perpetrators or both. In so doing it provides something rare: a popular- history account that will satisfy both general readers and professional historians."

Andrew Roberts, Financial Times
"Few books on [World War II] genuinely increase the sum of our collective knowledge of this exhaustively covered period, but this one does.... Moorhouse is particularly good with the small-arms fire of history, those illuminating details or unknown life-stories that shed light on a phenomenon of Berlin life.... By trawling through the complex, often deeply morally compromised personal stories of many survivors, Moorhouse has produced new insights into the way ordinary Berliners tried to escape the disastrous ill-fortune of living in the belly of the beast."

The Christian Century
"Hundreds of books have been written about the Nazi regime and what happened to the Jews under Hitler, but few books have been written about what life was like for ordinary Germans during that time. Using diaries, memoirs and interviews, Moorhouse gives an account of daily life in the capital, which despite the Nazis remained something of a liberal city."

Kirkus, starred review
"A superb addition to the social history of Nazi Germany.... An august contribution to the city-during-a-war genre, worthy to sit alongside such classics as Margaret Leech's Reveille in Washington (1941) and Ernest Furguson's Ashes of Glory (1996)."

Publishers Weekly
"British historian Moorhouse puts a human face on the capital city of a Reich at war."

The Independent (London)
"Roger Moorhouse has marshalled an impressive range of primary sources including newspaper reports, official documents, memoirs, diaries and interviews with the dwindling band of survivors to create a gripping panorama of Berlin at war.... Moorhouse's meticulous and painstaking research is matched by his narrative verve, wide-ranging sympathy and eye for telling detail."

Daily Telegraph (London)
"Evocative social history.... [Moorhouse] punctures a variety of myths. The Berlin he depicts is not the portrait of fanatical Nazis and hunted Jews that we are used to, although both groups are represented. Instead it is a city defined by apathy, filled with people who are content to pretend they cannot smell the unpleasant background odour until it becomes too overpowering to ignore."



Mail on Sunday (London)
"Roger Moorhouse's measured, sympathetic book offers a fascinating corrective.... It doesn't try to absolve the Germans altogether, but what he does do is help us understand them. A good many loathed Hitler and all he stood for; some risked torture and death to save Jews; the majority toed the line, not so much because they were ardent Nazis as because they were Germans who instinctively cleaved to the rule of law and just didn't like to rock the boat."

Max Hastings, Sunday Times (London)
"Roger Moorhouse has deep knowledge of wartime Germany…[and] a nice eye for social detail.... Anyone who reads Moorhouse to the bitter end will agree that Berlin suffered titanic punishment for the titanic crimes of Germany."

Ian Thomson, Telegraph (London)
"In Berlin at War, Roger Moorhouse provides a painstakingly detailed account of everyday life in Hitler's metropolis from 1939 to the conflict's end.... Using a variety of sources ranging from unpublished memoirs to interviews, Moorhouse builds an absorbing picture of hardship and despair in the nerve centre of Nazi Germany.... As a leading historian of modern Germany, Moorhouse has chronicled a largely unknown story with scholarship, narrative verve and, at times, an awful, harrowing immediacy."



Jonathan Yardley, Washington Post, Best of 2010
"Roger Moorhouse, a British writer of popular histories, describes life in the German capital from the confident and complacent (if also fearful) early months through the utter devastation ultimately wrought by Allied bombing and the ground attacks from east and west. Moorhouse is sympathetic to ordinary Berliners, especially as the bombing intensified and the city turned into an inferno, but he doesn't sentimentalize them."

Alfred S. Regnery, The American Spectator
"There is no end to books about the Germans and World War II, the Holocaust, and the battles and the evils of Nazism, but very few that explain the life of German civilians during those awful years. Berlin at War, by historian Roger Moorhouse, reminds us that war is not only about the fighting men, but the civilians as well.... This fascinating and beautifully written book tells the heart-rending story of those who died and those who survived—a part of World War II history that we all should know."

Financial Times, holiday round-up
"Berlin was the least fascist of any major German city yet it was among the most heavily bombed by Allies and its women suffered mass gang-rape by the Red Army. The searing experiences of Berliners are brought to life through often deeply morally compromised personal stories."



Kansas City Star, Top 100 Books of the Year
"It may be discomfiting for followers of World War II history to read about the air war over Berlin from the point of view of innocent German civilians on the ground, but English author Moorhouse provides stunning research and heartfelt interviews that never cease to fascinate."

History Today (UK)
"[A]s readable as a first-rate novel, full of gripping stories of suffering, endurance, courage and cowardice. Moorhouse is a clear-eyed, sensible and balanced historian who has substantially added to our knowledge of what happens when a society falls apart."

The Bloomsbury Review
"[A] detailed exploration of daily life in the sprawling capital of an enemy during wartime. Mundane activity…takes on a zestier level of interest as it unfolds within the grounds of a heavily targeted bomb zone.... More than a half century after this world war ended, Germany's former position as an enemy has faded. This significant new point of view does not attempt to excuse or diminish its well-documented excesses, but the approach puts a much different face on the enemy as a whole."

Wall Street Journal
"[A] notable contribution to the study of the Nazis."