Foreign Policy Begins at Home: The Case for Putting America's House in Order (Paperback)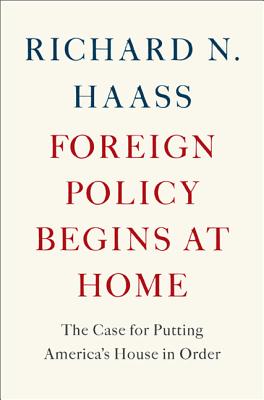 $20.39
This item is backordered and not currently available. Please contact us for an estimated availability date.
Description
---
"A concise, comprehensive guide to America's critical policy choices at home and overseas . . . without a partisan agenda, but with a passion for solutions designed to restore our country's strength and enable us to lead." -- Madeleine K. Albright

A rising China, climate change, terrorism, a nuclear Iran, a turbulent Middle East, and a reckless North Korea all present serious challenges to America's national security. But it depends even more on the United States addressing its burgeoning deficit and debt, crumbling infrastructure, second class schools, and outdated immigration system. While there is currently no great rival power threatening America directly, how long this strategic respite lasts, according to Council on Foreign Relations President Richard N. Haass, will depend largely on whether the United States puts its own house in order.

Haass lays out a compelling vision for restoring America's power, influence, and ability to lead the world and advocates for a new foreign policy of Restoration that would require the US to limit its involvement in both wars of choice, and humanitarian interventions.

Offering essential insight into our world of continual unrest, this new edition addresses the major foreign and domestic debates since hardcover publication, including US intervention in Syria, the balance between individual privacy and collective security, and the continuing impact of the sequester.
About the Author
---
Richard N. Haass, president of the Council on Foreign Relations since July 2003, was previously director of policy planning for the Department of State, where he was a principal advisor to Colin Powell. From 1989-1993, he was special assistant to President George H. W. Bush and senior director for the Near East and South Asia on the staff of the National Security Council. Haass also served in the Reagan and Carter administrations.

The recipient of the State Department's Distinguished Honor Award and the Presidential Citizens Medal, he is the author or editor of more than ten other books. Haass lives in New York City.
Praise For…
---
"A perceptive diagnosis and common sense prescription for what ails us as a nation. It is a practical guide for those who believe America's continued global leadership is critical in the twenty-first century, but who believe it must be anchored in restoration at home and more effective use of all the tools of American foreign policy abroad."—Robert M. Gates

"Richard Haass is one of America's most insightful and experienced thinkers. In Foreign Policy Begins at Home, Haass explains why our ability to wield power and influence abroad will depend on our confronting pressing challenges at home. He offers a sobering look at the domestic policies that are undermining our international competitiveness--and a thoughtful roadmap for strengthening America's position on the global stage."—Michael R. Bloomberg

"A concise, comprehensive guide to America's critical policy choices at home and overseas. Richard Haass writes without a partisan agenda, but with a passion for solutions designed to restore our country's strength and enable us to lead."—Madeleine K. Albright

"Haass delivers a cogent picture of the world and supports it with sharp and precise arguments."—Foreign Affairs

"A must read for aspiring diplomats."—American Diplomacy