Wiley GAAP Policies and Procedures (Paperback)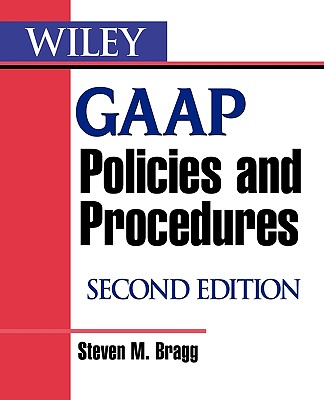 $121.75

Warehouse, In Stock | Usually Ships in 1-5 Days | New
Description
---
Now fully updated and at your fingertips the most practical, authoritative guide to implementing GAAP Get the answers you need to prepare financial statements and keep up to date on the latest FASB requirements. Now fully revised and updated, Wiley GAAP Policies and Procedures, Second Edition is an ideal companion to the Wiley GAAP guide and provides the practical application information essential to ensuring that a company's accounting systems are fully capable of incorporating the most recent GAAP. A concise version of the more detailed GAAP found in the Wiley GAAP guides, Wiley GAAP Policies and Procedures, Second Edition features handy, illustrative decision trees showing how to determine which GAAP ruling to use in a variety of situations, eliminating hours of time wading through detailed GAAP rulings and presents:
* New chapters on interim reporting, segment reporting, and accounting changes and correction of errors
* Updated content on FAS No. 151, Inventory Costs, FAS No. 153, Exchanges of Non-monetary Assets, FAS No. 154, Accounting Changes and Error Correction, FAS No. 156, Servicing of Financial Assets
* Implementation on nineteen newly issued EITFs
* Specific accounting policies that comply with GAAP, especially in terms of creating controls that mesh with GAAP
* The most common accounting transactions modified to work within GAAP restrictions
* Specific controls that allow the maximum level of control over accounting systems while remaining in compliance with GAAP
* Templates for forms and reports that can be used in a GAAP-compliant accounting system
* Numerous examples of footnotes that can be used to describe GAAP-mandated financial disclosures
* Hundreds of GAAP-compliant journal entries for most accounting transactions
Wiley GAAP Policies and Procedures, Second Edition is a valuable tool for CFOs, controllers, accounting managers, and general ledger accountants who need to ensure that their company properly treats all types of accounting transactions in accordance with GAAP.
About the Author
---
Steven M. Bragg, CPA, CMA, CIA, CPIM, has been the chief financial officer or controller of four companies, as well as a consulting manager at Ernst & Young and auditor at Deloitte & Touche. He received a master's degree in finance from Bentley College, an MBA from Babson College, and a bachelor's degree in economics from the University of Maine. He has been the two-time president of the Colorado Mountain Club, is an avid alpine skier and mountain biker, and is a certified master diver. Mr. Bragg resides in Centennial, Colorado. He is also the author of Accounting Best Practices and Design and Maintenance of Accounting Manuals, both from Wiley.