Adventures at Sea in the Great Age of Sail: Five Firsthand Narratives (Paperback)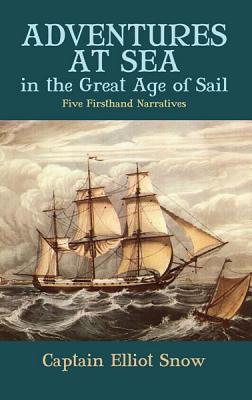 List Price: $14.95
Our Price: $10.95
(Save: $4.00 27%)
Description
---
"On March 19th, 1790, I sailed on board the ship "Massachusetts, " Captain Job Prince, commander, bound on a voyage to Canton in China. . . . She excited a considerable sensation for she was the largest merchant vessel built at that time in the United States."
Thus begins the narrative of John Bartlett of Boston, one of five fascinating true stories in this thrilling anthology of adventure on the high seas, edited by Captain Elliot Snow of the United States Navy. These rare firsthand accounts, among the only such tales still extant, re-create in remarkable detail the exciting post Revolutionary War era when American sailing ships explored the seven seas and transformed a young nation into a maritime power.
John Bartlett's exciting narrative goes on to relate many unusual experiences: he bartered with Indians along the Alaskan coast; narrowly escaped capture in the Pacific Islands where Captain Cook was killed twelve years before; killed sea lions in the Indian Ocean, chased whales in the Mozambique Channel, and at last disappeared from sight while a "pressed" sailor in the British Navy.
During the War of 1812, Captain Charles Barnard sailed to the Falkland Islands where he rescued a shipwrecked British captain and crew who then seized his vessel. He was abandoned to survive, as best he could, on an uninhabited island and lived there for two years, a real-life Robinson Crusoe. His account of this and other adventures is one of the rarest narratives of American voyages.
Other exciting tales in this volume include that of Captain John B. Knights, master of the brig "Spy" out of Salem, Massachusetts, who had sailed to the South Pacific where he bartered for tortoise shells with the savage islanders of that region. His observations on native life in New Zealand and in the Fijis are of unusual interest.
For anyone in search of authentic tales of sea-going action, adventure, and exploration, these true-to-life accounts comprise a rich treasury of entertaining reading, with enough excitement and derring-do to satisfy any armchair adventurer. Moreover, they offer a vivid picture of life aboard the "tall ships" a century and more ago. A selection of 33 reproductions of historic drawings, engravings, and photographs add special flavor and authenticity to the text.