Six Great Sherlock Holmes Stories (Paperback)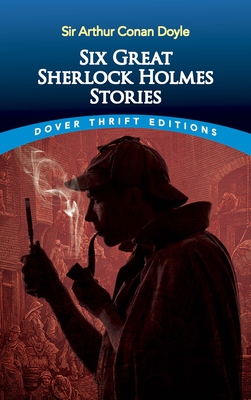 List Price: $4.00
Our Price: $3.40
(Save: $0.60 15%)
Description
---
Undoubtedly the best-known detective in literature, Sherlock Holmes was the creation of British author Sir Arthur Conan Doyle (1859-1930), who endowed his super sleuth with an extraordinary facility for solving crimes. Drawing on his remarkable powers of observation and deduction, coupled with an encyclopedic knowledge of crimes and criminals, Holmes seeks out his prey in the London underworld, where no evildoer is safe from his keen wits and tenacious pursuit.
Reprinted from a standard text, this inexpensive volume offers mystery lovers a choice selection of six of the finest Sherlock Holmes stories: A Scandal in Bohemia, The Red-headed League, The Adventure of the Speckled Band, The Adventure of the Engineer's Thumb, The Final Problem, and The Adventure of the Empty House. In these richly atmospheric stories, Victorian London comes vividly to life as hansom cabs clatter over the cobblestoned streets, gas lamps flare in the thick fog, and an almost palpable sense of excitement seizes the reader as Holmes and Dr. Watson set off on another adventure.
About the Author
---
Arthur Conan Doyle was a prolific writer born in Scotland who started out as a medical doctor. While at the University of Edinburgh, he augmented his income by writing stories. His first Sherlock Holmes tale was published in 1887, introducing one of literature's best-loved detectives. Doyle has also written many works of history and science fiction, plus plays and poetry.