Stuck with Tourism: Space, Power, and Labor in Contemporary Yucatan (Paperback)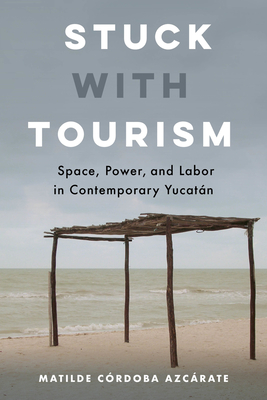 This item is backordered and not currently available. Please contact us for an estimated availability date.
Description
---
Tourism has become one of the most powerful forces organizing the predatory geographies of late capitalism. It creates entangled futures of exploitation and dependence, extracting resources and labor, and eclipsing other ways of doing, living, and imagining life. And yet, tourism also creates jobs, encourages infrastructure development, and in many places inspires the only possibility of hope and well-being. Stuck with Tourism explores the ambivalent nature of tourism by drawing on ethnographic evidence from the Mexican Yucatán Peninsula, a region voraciously transformed by tourism development over the past forty years. Contrasting labor and lived experiences at the beach resorts of Cancún, protected natural enclaves along the Gulf coast, historical buildings of the colonial past, and maquilas for souvenir production in the Maya heartland, this book explores the moral, political, ecological, and everyday dilemmas that emerge when, as Yucatán's inhabitants put it, people get stuck in tourism's grip.
About the Author
---
Matilde Córdoba Azcárate is Associate Professor in the Communication Department at the University of California, San Diego.
Praise For…
---
"Córdoba Azcárate's approach to the production of tourism spaces . . . will be indispensable. . . . [And] a versatile teaching text for both undergraduates and graduate students, to introduce topics in tourism geography and explore their implications for political economy, regional development, disaster recovery, and ecological sustainability."
— AAG Review of Books

"This book is packed with rich material. Each of the four case studies could be its own monograph. This book is most important for two audiences (with fortunate overlap), those in tourism studies of any region and those dedicated to following scholarship of Mexico and/or Yucatan or Maya studies. This book would be excellent for use in Anthropology, Latin American Studies, or Global Studies classes."
— The Journal of Latin American and Caribbean Anthropology

"Stuck with Tourism is an engaging read that brings into focus concerns about tourism that go beyond the headlines."
— Journal of Latin American Geography

"Matilde Córdoba Azcárate's Stuck with Tourism powerfully details the predatory nature of tourism industry development."
— Anthropology Book Forum