Propeller: Accelerating Change by Getting Accountability Right (Hardcover)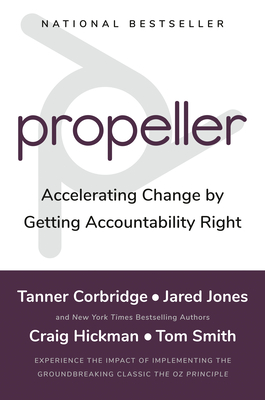 List Price: $29.00
Our Price: $24.65
(Save: $4.35 15%)
Description
---
The newest addition to Partners In Leadership's accountability series that began with the classic The Oz Principle.

The Oz Principle has sold more than a million copies since it debuted in 1994, establishing it as the go-to reference on workplace accountability throughout the world. By embracing its practical and invaluable advice, tens of thousands of companies have improved their organizational accountability -- the key to achieving and sustaining exceptional results.

Now, the team at Partners In Leadership is applying thirty years of proven success to a whole new concept: Propeller. This book presents a modern take on accountability, while remaining faithful to the elegantly simple premise: When people take personal ownership of their organization's priorities and accept responsibility for their own performance, they become more engaged and perform at a higher level.

With all new examples and stories, Propeller builds on the The Oz Principle's legacy to inspire the next generation of readers to tap the incredible power of personal, team, and organizational accountability.
About the Author
---
Tanner Corbridge is a Senior Partner at Partners In Leadership. He has led large scale transformation projects with Fortune 1000 clients across numerous global industries. Clients include over half of the Dow Jones Index companies as well as many smaller organizations.

Jared Jones is a Senior Partner at Partners In Leadership. He has consulted with CEOs and senior leadership teams in some of the most successful organizations in the world. Clients include over half of the Fortune top 50 companies as well as numerous mid-sized companies.

Craig Hickman is Senior Vice President of New Product Development at Partners In Leadership. He has authored or co-authored seventeen books, including Creating Excellence, The Strategy Game, Mind of a Manager Soul of a Leader, and Results Revolution.

Tom Smith is cofounder and board member of Partners in Leadership. His clients include almost half of the Dow Jones Industrial Average Companies and Fortune 50 largest companies in the United States. He has co-authored The Oz Principle, How Did That Happen?, and Change the Game.