Meathead: The Science of Great Barbecue and Grilling (Hardcover)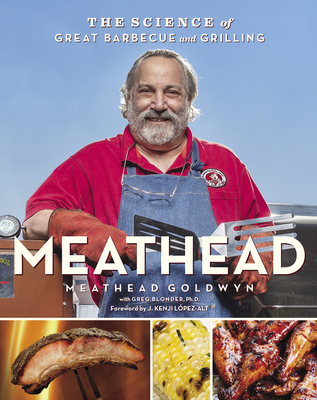 List Price: $35.00
Our Price: $29.75
(Save: $5.25 15%)
Warehouse, In Stock | Usually Ships in 1-5 Days | New
Description
---
New York Times Bestseller
Named "22 Essential Cookbooks for Every Kitchen" by SeriousEats.com
Named "25 Favorite Cookbooks of All Time" by Christopher Kimball
Named "Best Cookbooks Of 2016" by Chicago Tribune, BBC, Wired, Epicurious, Leite's Culinaria
Named "100 Best Cookbooks of All Time" by Southern Living Magazine

For succulent results every time, nothing is more crucial than understanding the science behind the interaction of food, fire, heat, and smoke. This is the definitive guide to the concepts, methods, equipment, and accessories of barbecue and grilling. The founder and editor of the world's most popular BBQ and grilling website, AmazingRibs.com, and a BBQ Hall of Fame member, "Meathead" Goldwyn applies the latest research to backyard cooking and 118 thoroughly tested recipes.
 
He explains why dry brining is better than wet brining; how marinades really work; why rubs shouldn't have salt in them; how heat and temperature differ; the importance of digital thermometers; why searing doesn't seal in juices; how salt penetrates but spices don't; when charcoal beats gas and when gas beats charcoal; how to calibrate and tune a grill or smoker; how to keep fish from sticking; cooking with logs; the strengths and weaknesses of the new pellet cookers; tricks for rotisserie cooking; why cooking whole animals is a bad idea, which grill grates are best;and why beer-can chicken is a waste of good beer and nowhere close to the best way to cook a bird.
 
He shatters the myths that stand in the way of perfection. Busted misconceptions include:
 
• Myth: Bring meat to room temperature before cooking. Busted! Cold meat attracts smoke better.
 
• Myth: Soak wood before using it. Busted! Soaking produces smoke that doesn't taste as good as dry fast-burning wood.
 
• Myth: Bone-in steaks taste better. Busted! The calcium walls of bone have no taste and they just slow cooking.
 
• Myth: You should sear first, then cook. Busted! Actually, that overcooks the meat. Cooking at a low temperature first and searing at the end produces evenly cooked meat.
 
Lavishly designed with hundreds of illustrations and full-color photos by the author, this book contains all the sure-fire recipes for traditional American favorites and many more outside-the-box creations. You'll get recipes for all the great regional barbecue sauces; rubs for meats and vegetables; Last Meal Ribs, Simon & Garfunkel Chicken; Schmancy Smoked Salmon; The Ultimate Turkey; Texas Brisket; Perfect Pulled Pork; Sweet & Sour Pork with Mumbo Sauce; Whole Hog; Steakhouse Steaks; Diner Burgers; Prime Rib; Brazilian Short Ribs; Rack Of Lamb Lollipops; Huli-Huli Chicken; Smoked Trout Florida Mullet –Style; Baja Fish Tacos; Lobster, and many more.
About the Author
---
The president and founder of AmazingRibs.com, one of the most popular online barbecuing sites, MEATHEAD and has penned hundreds of articles about food and drink for the Washington Post, the Chicago Tribune, AOL, Wine Spectator, and a weekly column for Huffington Post. His photos have appeared in such publications as Time and Playboy.  He judges barbecue cookoffs from Kansas City to Memphis, including the Jack Daniels World Championship Invitational Barbecue and the College Football Hall of Fame Barbecue.
Praise For…
---
"Readers will be delighted to learn that a man who willingly calls himself Meathead can still be trusted with a collection that has science in the subtitle. Goldwyn, whose day job is running the website amazingribs.com, explores the complexity of heat, meat, and smoke in the first half of his book, with a sense of humor sharper than his nickname suggests and a stack of scientific research provided by physicist Greg Blonder. Then he offers more than 100 recipes to take to the grill...[an] excellent guidebook." --Publishers Weeklky "This is the book barbecue nerds have been waiting for. Myth and lore abounds in the world of cooking, and nowhere more so than in the primal arena that exists when humans put open fire and meat together in the great outdoors (or suburban backyard, as the case may be). That's good news for anyone who, like me, longs to understand the science of grilling and barbecue; the thermodynamics of heat transfer under that kettle dome, the chemistry of the smoke ring, and what makes a char-grilled steak so g*&@%# delicious.             Meathead's gift lies not just in factual accuracy, but also in being able to distill complex subjects to their most essential, applicable core in a manner that is a genuine pleasure to read. You'll laugh out loud at his metaphors. A good technical writer will leave you feeling like you know more than when you started. A great one can leave you feeling like more than a passive bystander. It'll make you feel like an active participant, like you've been on a voyage of discovery for yourself. Flipping over each page to discover what lies on the next will remind you of the very first time you peeked under the cover of your grill and breathed in the alchemy that occurs between smoke and meat. You'll see conventions challenged, techniques elucidated, and myths busted, and you'll have a wildly fun time in the process. With hundreds of pages on techniques, theory, equipment, and background science before you even get to the recipes, this is a book that is squarely aimed at cooks who don't just want a single good rack of ribs coming off their grill, but who want to understand what makes them good and how to repeat it time after time. Soak in enough of the background technique and you won't even need a recipe. You have all the tools you need to develop your own. I love to grill but I'm not barbecue guru. After reading Meathead, I'm gonna be pretty darned good at faking it though." — J. Kenji López-Alt, Author of The Food Lab    "An amazing compendium of barbecue knowledge." — Aaron Franklin, Franklin Barbecue, Austin, and Author of Franklin Barbecue    "Barbecue nerds will delight in Meathead's detail-oriented research. Busting myths and blinding us with science, Meathead is a must for the collection of any serious barbecue cook." — Mike Mills and Amy Mills, 17th Street Barbecue and authors of Peace, Love, & Barbecue   "Barbecuing is a subject that arouses strong opinions, and you won't find many that are stronger than Meathead Goldwyn's. The difference is that he has the evidence to back them up. Anyone from a backyard burger king to a competition smoker is likely to learn something from this book." — Russ Parsons, Author of How to Read a French Fry   "An indispensable barbecue book. It is at once comprehensive and engaging and will become a cornerstone reference book in