Dogs of War: A Graphic Novel (Paperback)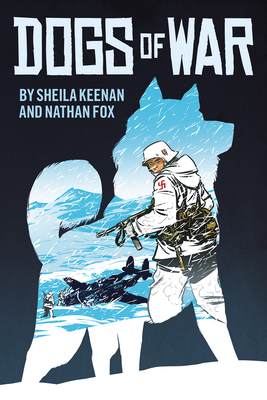 List Price: $14.99
Our Price: $12.74
(Save: $2.25 15%)
Description
---
Sheila Keenan's captivating stories paired with Nathan Fox's stunning art bring the heroic military actions of man's best friend to life!Some war heroes heard wind whistling over a hidden trip wire.Some war heroes sniffed out a sniper 1,000 yards away.Some war heroes stood tall . . . on four legs!DOGS OF WAR is a graphic novel that tells the stories of the canine military heroes of World War I, World War II, and the Vietnam War. This collection of three fictional stories was inspired by historic battles and real military practice. Each story tells the remarkable adventures of a soldier and his service dog and is rendered with fascinating and beautiful detail, bringing to life the faithful dogs who braved bombs, barrages, and battles to save the lives of countless soldiers. Based on the real-life roles of military dogs that served as Red Cross rescuers, messengers, scouts, search-and-rescue teams, sentries, and mascots, DOGS OF WAR captures both the adventure and the devastation brought on by war, as well as the celebrations of life and friendship between boys and their dogs.
About the Author
---
Sheila Keenan is the author of many nonfiction books, including GREETINGS FROM THE 50 STATES; ANIMALS IN THE HOUSE; O, SAY CAN YOU SEE?; GODS, GODDESSES, AND MONSTERS; and the SCHOLASTIC ENCYCLOPEDIA OF WOMEN IN THE UNITED STATES. She lives in New York City.
Nathan Fox is an illustrator and storyteller whose work has appeared in the NEW YORK TIMES, the NEW YORKER, ROLLING STONE, WIRED, and ENTERTAINMENT WEEKLY, among others. His work has also been published by DC Comics, Dark Horse Comics, and Marvel. He lives with his family in New York City.