Goth Girl Rising (Paperback)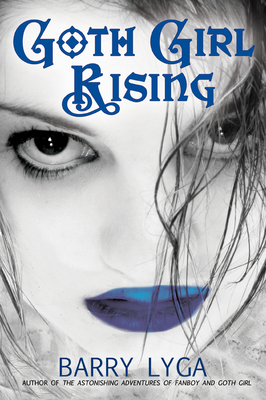 List Price: $9.99
Our Price: $9.49
(Save: $0.50 5%)
Description
---
Time is a funny thing in the hospital. In the mental ward. You lose track of it easily. After six months in the Maryland Mental Health Unit, Kyra Sellers, a.k.a. Goth Girl, is going home. Unfortunately, she's about to find out that while she was away, she lost track of more than time.

Kyra is back in black, feeling good, and ready to make up with the only person who's ever appreciated her for who she really is.
But then she sees him. Fanboy. Transcended from everything he was into someone she barely recognizes.
And the anger and memories come rushing back.
There's so much to do to people when you're angry.
Kyra's about to get very busy.
About the Author
---
Barry Lyga is a recovering comic book geek and the author of many books, including The Astonishing Adventures of Fanboy and Goth Girl, Goth Girl Rising, Boy Toy, and Hero-Type for HMH, Wolverine: Worst Day Ever for Marvel Books, and Archvillian for Scholastic. He has also written comic books about everything from sword-wielding nuns to alien revolutionaries. He worked as marketing manager at Diamond Comic Distributers for ten years. He lives in Brooklyn, New York.Visit Barry online at www.barrylyga.com.
Praise For…
---
"Readers will love getting her side of the story, whether she is raging about sexism in letters to her hero, writer Neil Gaiman, or finally figuring out that the person she needs is "someone who appreciates not just what you do, but how you do it."--Publishers Weekly

"In this sequal to The Astonishing Adventures of Fanboy and Goth Girl (2006), Lyga dives with typical boldness into the complexity of teen emotions and, for the first time, the female perspective...it is Kyra's wholly believable questions and her forceful voice that will stay with readers."--Booklist

"It is a no-brainer that fans of the first book will eat this one up, but new readers will not have any trouble following the story as Lyga peppers this book with ample information from the first. Buy multiple copies of this one -- it will go out and get passed around -- and might not come back."--VOYA, April 2010 —