Aging with Grace: What the Nun Study Teaches Us About Leading Longer, Healthier, and More Meaningful Lives (Paperback)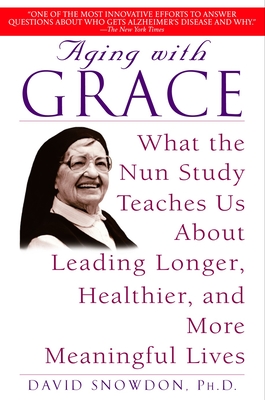 List Price: $18.00
Our Price: $15.30
(Save: $2.70 15%)
Warehouse, In Stock | Usually Ships in 1-5 Days | New
Description
---
In 1986 Dr. David Snowdon, one of the world's leading experts on Alzheimer's disease, embarked on a revolutionary scientific study that would forever change the way we view aging—and ultimately living. Dubbed the "Nun Study" because it involves a unique population of 678 Catholic sisters, this remarkable long-term research project has made headlines worldwide with its provocative discoveries.
Yet Aging with Grace is more than a groundbreaking health and science book. It is the inspiring human story of these remarkable women—ranging in age from 74 to 106—whose dedication to serving others may help all of us live longer and healthier lives.

Totally accessible, with fascinating portraits of the nuns and the scientists who study them, Aging with Grace also offers a wealth of practical findings:

• Why building linguistic ability in childhood may protect against Alzheimer's
• Which ordinary foods promote longevity and healthy brain function
• Why preventing strokes and depression is key to avoiding Alzheimer's
• What role heredity plays, and why it's never too late to start an exercise program
• How attitude, faith, and community can add years to our lives

A prescription for hope, Aging with Grace shows that old age doesn't have to mean an inevitable slide into illness and disability; rather it can be a time of promise and productivity, intellectual and spiritual vigor—a time of true grace.
About the Author
---
Dr. David Snowdon received his Ph.D. in epidemiology from the University of Minnesota and began the Nun Study there in 1986. In 1990 he moved the Nun Study to the Sanders-Brown Center on Aging at the University of Kentucky Medical Center, where he is also Professor of Neurology. One of the world's leading experts on Alzheimer's disease, he has presented his findings at scientific conferences throughout North America and Europe and has been published in such major medical journals as The Journal of the American Medical Association and The Journal of Gerontology.
Praise For…
---
"Startling, often encouraging discoveries."
—USA Today

"A moving, intensely personal account."
—Time

"A wonderfully provocative account of how women age and thrive."
—Newsday