Brilliant Madness: Living with Manic Depressive Illness (Mass Market)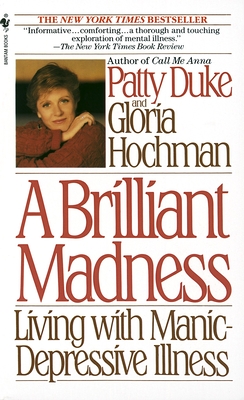 List Price: $7.99
Our Price: $6.79
(Save: $1.20 15%)
Description
---
In her revealing bestseller Call Me Anna, Patty Duke shared her long-kept secret: the talented, Oscar-winning actress who won our hearts on The Patty Duke Show was suffering from a serious-but-treatable-mental illness called manic depression. For nearly twenty years, until she was correctly diagnosed at age thirty-five, she careened between periods of extreme euphoria and debilitating depression, prone to delusions and panic attacks, temper tantrums, spending sprees, and suicide attempts. Now in A Brilliant Madness Patty Duke joins with medical reporter Gloria Hochman to shed light on this powerful, paradoxical, and destructive illness. From what it's like to live with manic-depressive disorder to the latest findings on its most effective treatments, this compassionate and eloquent book provides profound insight into the challenge of mental illness. And though Patty's story, which ends in a newfound happiness with her cherished family, it offers hope for all those who suffer from mood disorders and for the family, friends, and physicians who love and care for them.
About the Author
---
Patty Duke (1946–2016) was a true show business legend whose career spanned six decades. Her Oscar win for her role as Helen Keller in The Miracle Worker made her, at the time, the youngest Academy Award winner. She also entered the history books as the youngest person to have a show bearing her full name, with The Patty Duke Show, on which she played genetically unexplainable identical cousins. In addition to her acting, she became the second woman ever elected president of the Screen Actors Guild.

Gloria Hochman is an award-winning journalist and New York Times bestselling author. Her works include A Brilliant Madness: Living with Manic-Depressive Illness and The Age for Change. She has published hundreds of articles for The Philadelphia Inquirer Magazine, where she continues to write for the newspaper's Health and Science section; Newsweek; Ladies' Home Journal; Psychology Today, Reader's Digest, and Science Digest. She also has reviewed books for The New York Times.
Praise For…
---
"A groundbreaking guide for those who are manic depressive of who live with or love someone who is."--Publishers Weekly