The World's Worst Assistant (Hardcover)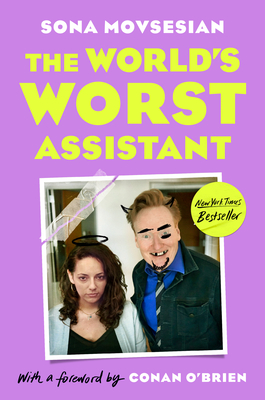 List Price: $26.00
Our Price: $22.10
(Save: $3.90 15%)
Warehouse, In Stock | Usually Ships in 1-5 Days | New
Description
---
***An Instant New York Times Bestseller***

One of Vulture's Best Comedy Books of 2022 | One of Business Insider's Best Books About Celebrities | One of NPR's Books We Love in 2022 | One of Hudson's Best Books of 2022 | One of Audible's Best of Audiobooks of 2022

From Conan O'Brien's longtime assistant and cohost of his podcast, Conan O'Brien Needs a Friend, a completely hilarious and irreverent how-to guide for becoming a terrible, yet unfireable employee, spilling her trade secrets for minimizing effort while maximizing the rewards.
 
Sona Movsesian didn't wake up one day and decide to become the World's Worst Assistant. Achieving such greatness is a gradual process--one that starts with long hours and hard work before it eventually descends into sneaking low-dosage edibles into your lunch and napping on your boss's couch. 
 
With a foreword from Conan O'Brien, The World's Worst Assistant is populated with hysterical black-and-white illustrations, comics, and more. It's a mixture of how-tos (like How to Nap at Work and How to Watch TV at Your Desk), tips for becoming untouchable (like memorizing social security and credit card numbers and endearing yourself to friends and family), and incredible personal stories from Sona's twelve years spent working for Conan that put their adorable closeness and professional dysfunction on display. In these pages, Sona will explain her descent from eager, hard-working, ambitious, detail-orientated assistant to self-awarded title-holder for the worst in history.

This book is irresistible fun you'll want to give to every young professional in your life. For readers of heartfelt humor like that of Phoebe Robinson and Colin Jost, The World's Worst Assistant is a chance for fans, viewers, and listeners of Conan's shows and podcast to fall in love with Sona and Conan all over again.
About the Author
---
Over her thirteen years of assisting Conan O'Brien, Sona Movsesian has become a regular feature of all things Team Coco and a fan favorite. Now, Sona cohosts Conan's podcast, Conan O'Brien Needs a Friend, and stars in a regular IGTV show hosted on @TeamCoco every Friday, "Sona Fixes Your Life." Sona lives in LA with her husband and twin sons. She regularly forgets to put Conan's appointments in his calendar.
Praise For…
---
One of Vulture's Best Comedy Books of 2022 | One of Business Insider's Best Books About Celebrities | One of NPR's Books We Love in 2022 | One of Hudson's Best of 2022 | One of Audible's Best of 2022

Praise for The World's Worst Assistant
"Movsesian endearingly pulls her...comedic weight in this narrative.... Movsesian truly shines when she discusses her Armenian heritage, her dating life, and winning a college national speech championship. Conan O'Brien fans will find much to love here."
—Library Journal (starred)

"...Movsesian's story is not about celebrating laziness or ineptitude. It's about how two flawed people who were meant to be together found each other: a boss accepting an employee for who she is and how she does her job, and an employee accepting her boss for everything that he is."
—The New York Times

"[An] extremely funny memoir...[Movsesian's] observations are spunky and sweet, undercutting every scene with an incisive humor that makes you laugh out loud. Whether she's flying by private jet or printing notecards for the White House Correspondents' Dinner, Movsesian remains blisteringly honest, relatable and altogether lovable."
—NPR

"[Sona's] narrative offers a refreshing departure from the traditional assistant horror stories of pleasing a tyrant boss.... Brimming with heart and humor, this story of failing upward is a hoot."
—Publishers Weekly

"Playfully surreal reading about the comedy of human foibles."
—Kirkus

"The World's Worst Assistant is as loose, laid-back, and friendly as one would expect and hope for from a memoir by Sona Movsesian.... Movsesian writes in a style that's both self-aggrandizing and self-deprecating, which fits because The World's Worst Assistant is also a call to arms to millennials and Gen-Z readers as a thorough takedown of grind culture, a series of quietly bold reminders to serve your own needs in your work and to make sure you work with good, funny people, if at all possible."
—Vulture

"Charming and amusing...If you've ever wondered how someone as hilariously anti-work as Movsesian got her job and what her whole deal is or wanted to hear day-to-day behind-the-scenes details of O'Brien's various late-night talk shows, this is the book for that along with lots of tips on how to be a bad assistant and how to deal with bosses, both the bad ones and the good ones."
—Vulture

"Sona Movsesian is excellent at her job — or rather, not doing it...Now, 13 years into the assistant role for [Conan] O'Brien, Movsesian has turned not doing her job into an art form. And with the release of her new book, The World's Worst Assistant, she offers others a guide to doing as she does (well, doesn't)."
—The Cut

"During Sona Movsesian's decade-plus as Conan O'Brien's assistant in the Conan era, she developed a beloved shtick as a sparring partner who binge-watched Friends, did crossword puzzles on the clock, and rarely assisted anyone other than herself...Now she's hawking the bare-minimum work ethic with her memoir, The World's Worst Assistant. With tips on how to nap at work or abuse a corporate card, the book is a tongue-in-cheek entry to the work-life balance conversation."
—Vanity Fair

"This fun and funny read is a heartfelt and honest tale about the unique relationship between boss and assistant."
—Business Insider