Girls on the Brink: Helping Our Daughters Thrive in an Era of Increased Anxiety, Depression, and Social Media (Hardcover)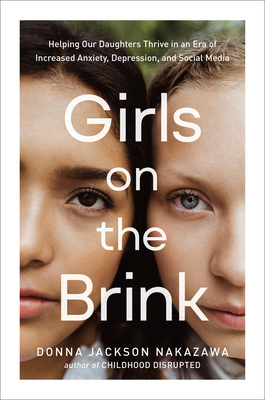 List Price: $28.00
Our Price: $23.80
(Save: $4.20 15%)
Warehouse, In Stock | Usually Ships in 1-5 Days | New
Description
---
15 "simple but powerful" (The New York Times Book Review) strategies for raising emotionally healthy girls, based on cutting-edge science that explains the modern pressures that make it so difficult for adolescent girls to thrive

"This is a brave and important book; the challenging stories—both personal and scientific—will make you think, and, hopefully, act."—Bruce D. Perry, MD, PhD, New York Times bestselling co-author of What Happened to You?

ONE OF THE BEST BOOKS OF THE YEAR: The Washington Post, Mashable

Anyone caring for girls today knows that our daughters, students, and girls next door are more anxious and more prone to depression and self-harming than ever before. The question that no one has yet been able to credibly answer is Why?

Now we have answers. As award-winning writer Donna Jackson Nakazawa deftly explains in Girls on the Brink, new findings reveal that the crisis facing today's girls is a biologically rooted phenomenon: the earlier onset of puberty mixes badly with the unchecked bloom of social media and cultural misogyny. When this toxic clash occurs during the critical neurodevelopmental window of adolescence, it can alter the female stress-immune response in ways that derail healthy emotional development.

But our new understanding of the biology of modern girlhood yields good news, too. Though puberty is a particularly critical and vulnerable period, it is also a time during which the female adolescent brain is highly flexible and responsive to certain kinds of support and scaffolding. Indeed, we know now that a girl's innate sensitivity to her environment can, with the right conditions, become her superpower. Jackson Nakazawa details the common denominators of such support, shedding new light on the keys to preventing mental health concerns in girls as well as helping those who are already struggling. Drawing on insights from both the latest science and interviews with girls about their adolescent experiences, the author carefully guides adults through fifteen "antidote" strategies to help any teenage girl thrive in the face of stress, including how to nurture the parent-child connection through the rollercoaster of adolescence, core ingredients to building a sense of safety and security for your teenage girl at home, and how to foster the foundations of long-term resilience in our girls so they're ready to face the world.

Neuroprotective and healing, the strategies in Girls on the Brink amount to a new playbook for how we—parents, families, and the human tribe—can secure a healthy emotional inner life for all of our girls.
About the Author
---
Donna Jackson Nakazawa is the author of four books that explore the intersection of neuroscience, immunology, and emotion, including The Angel and the Assassin, named one of the best books of 2020 by Wired magazine, and Childhood Disrupted, which was a finalist for the Books for a Better Life Award. Her work has appeared in Wired, Stat, The Boston Globe, The Washington Post, Health Affairs, Parenting, AARP Magazine, and Glamour, and has been featured on the cover of Parade and in Time; she has appeared on Today, NPR, NBC News, and ABC News. Jackson Nakazawa is also the creator and founder of the narrative writing-to-heal program Your Healing Narrative: Write-to-Heal with Neural Re-Narrating.™ She is a regular speaker at universities, including the Harvard Division of Science Library Series, Johns Hopkins University, and the University of Arizona. She lives with her family in Maryland.
Praise For…
---
"Some books translate science into understandable language; some offer advice in the form of actionable steps; and some weave stories that grab you by the heart. This one—miraculously—does all three."—Cara Natterson, MD, bestselling author of The Care and Keeping of You 2 and Decoding Boys

"After describing the environmental and physiological 'toxic stressors' on girls, Nakazawa offers simple but powerful ways to combat them. And she doesn't only explain why it's beneficial to keep your children from certain online influences as long as you can—she actually has a step-by-step program for how to do it."—Judith Newman, The New York Times Book Review

"A perceptive, informative examination of the problems young American girls face and how to change them . . . All of the author's advice is sound, and her insights into how to start the process of change make this an important book for parents of girls."—Kirkus Reviews (starred review)

"The smart analysis and wealth of neuroscientific and psychological research adds nuance to public discourse around girls' mental health. . . . Timely and incisive, this issues an acute warning that the kids are not alright."—Publishers Weekly