Burn Rate: Launching a Startup and Losing My Mind (Paperback)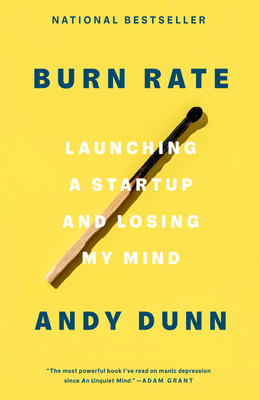 List Price: $18.00
Our Price: $15.30
(Save: $2.70 15%)
Warehouse, In Stock | Usually Ships in 1-5 Days | New
Description
---
NATIONAL BESTSELLER • In this "gripping" (TechCrunch), "eye-opening" (Gayle King, Oprah Daily) memoir of mental illness and entrepreneurship, the co-founder of the menswear startup Bonobos opens up about the struggle with bipolar disorder that nearly cost him everything.

"Arrestingly candid . . . the most powerful book I've read on manic depression since An Unquiet Mind."—Adam Grant, #1 New York Times bestselling author of Think Again and host of WorkLife

At twenty-eight, fresh from Stanford's MBA program and steeped in the move-fast-and-break-things ethos of Silicon Valley, Andy Dunn was on top of the world. He was building a new kind of startup—a digitally native, direct-to-consumer brand—out of his Manhattan apartment. Bonobos was a new-school approach to selling an old-school product: men's pants. Against all odds, business was booming.

Hustling to scale the fledgling venture, Dunn raised tens of millions of dollars while boundaries between work and life evaporated. As he struggled to keep the startup afloat, Dunn was haunted by a ghost: a diagnosis of bipolar disorder he received after a frightening manic episode in college, one that had punctured the idyllic veneer of his midwestern upbringing. He had understood his diagnosis as an unspeakable shame that—according to the taciturn codes of his fraternity, the business world, and even his family—should be locked away.

As Dunn's business began to take off, however, some of the very traits that powered his success as a founder—relentless drive, confidence bordering on hubris, and ambition verging on delusion—were now threatening to undo him. A collision course was set in motion, and it would culminate in a night of mayhem—one poised to unravel all that he had built.

Burn Rate is an unconventional entrepreneurial memoir, a parable for the twenty-first-century economy, and a revelatory look at the prevalence of mental illness in the startup community. With intimate prose, Andy Dunn fearlessly shines a light on the dark side of success and challenges us all to take part in the deepening conversation around creativity, performance, and disorder.
About the Author
---
Andy Dunn co-founded the ecommerce-driven menswear brand Bonobos in 2007 and served as CEO through its 2017 acquisition by Walmart. As an angel investor and through his venture capital firm, Red Swan, Dunn has backed more than eighty startups, including Warby Parker, Oscar, and Coinbase. Dunn serves on the boards of Monica + Andy, an organic baby-apparel company founded by his sister, and the tech nonprofit Raised By Us. Named to Fortune's 40 Under 40 list in 2018, he is a graduate of Northwestern University and the Stanford Graduate School of Business. He lives in Chicago with his wife and their son.
Praise For…
---
"A brave and candid new memoir."—Tony Dokoupil, CBS Mornings

"[Dunn's] story . . . might just save another life. . . . Gripping."—TechCrunch
 
"A humble, honest and brave look at the author's struggle with bipolar disorder . . . Not only does the book humanize this affliction, which affects more than three percent of the population, but it offers a rare look back at where things went wrong, what could have been done differently and also provides a template for families worried about a loved one. So many things are extraordinary about this story."—Lee Woodruff, Book Marks

"There is nothing typical about this extraordinarily brave memoir. The result is a long-overdue unveiling—a reckoning with rampant mental health stigma that is especially pervasive in the business world."—Susannah Cahalan, #1 New York Times bestselling author of Brain on Fire and The Great Pretender

"Many leaders and founders struggle with mental health, but few have the courage to open up about it. Burn Rate is a must-read not only for entrepreneurs but for anyone who has ever hesitated to seek help and support."—Adam Grant, #1 New York Times bestselling author of Think Again and host of WorkLife

"I highly recommend this book to anyone looking to learn more about the important link between mental health and achievement as well as the crucial role a great support system can be to the healing process."—Mardy Fish, former U.S. #1 tennis player and captain of the U.S. Davis Cup team

"A brave, powerful, smart, and darkly funny journey into the heart of edgy entrepreneurship and the timeless challenges of mental illness." —Patrick J. Kennedy, founder of the Kennedy Forum and New York Times bestselling co-author of A Common Struggle

"A riveting and soulful expression of the entrepreneur, Burn Rate blows away the haze of American dream myths to reveal that, often, there's a destructive mania that drives success in this country."—Ev Williams, founder and CEO, Medium; co-founder, Twitter

"Dunn's raw and honest look inside his own head—and heart—will make all of us reassess how we're really doing."—Marc Lore, serial entrepreneur; co-owner, Minnesota Timberwolves and Minnesota Lynx

"A beautiful and stigma-shattering account . . . I finished Burn Rate in a day."—Ariela Safira, founder and CEO, Real

"For anyone coming of age with big ambitions, Burn Rate is a real reminder of the learning curve of self-understanding and care that is critical to success."—Jennifer Fleiss, co-founder, Rent the Runway

"A page-turner written by a masterful storyteller, this book serves as inspiration to anyone who wants to live a fulfilling life in the face of anxiety, depression and mood swings."—Justin McLeod, founder and CEO, Hinge