One: Pot, Pan, Planet: A Greener Way to Cook for You and Your Family: A Cookbook (Hardcover)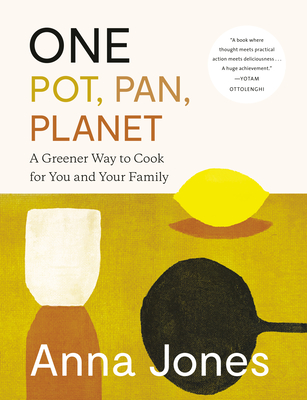 List Price: $35.00
Our Price: $29.75
(Save: $5.25 15%)
Warehouse, In Stock | Usually Ships in 1-5 Days | New
Description
---
From the award-winning culinary superstar and all-around "Queen of the Greens," a cookbook that perfectly reflects the way we want to cook and eat today: vegetarian food that is stylish, sustainable, and packed with flavor.

"This is a book where thought meets practical action meets deliciousness." –Yotam Ottolenghi, bestselling author and award-winning chef

With her award-winning cookbooks, Anna Jones blazed the trail of modern and creative vegetable-centered cuisine, and in her new book, she makes cooking mouthwatering meals simpler and greener than ever before. One: Pot, Pan, Planet delivers all the goods: delectable recipes that are easy to prepare and that keep sustainability at the center of every dish. And with Jones guiding the way, the variety and depths of flavors possible using just one pot, pan, or tray are limitless: Persian Noodle Soup, Carrot & Sesame Pancakes; Crispy Butter Beans with Kale, Lemon & Parmesan; Quick Squash Lasagna; Saag Aloo Shepard's Pie, to name just a few.

With over 200 recipes for every occasion--from busy weeknight meals, to weekend feasts, to desserts that promise to delight --these inventive, deeply satisfying dishes will become your new go-to kitchen staples. Whether preparing the recipes vegetarian or vegan, you will also find information to help you reduce waste, use leftovers, make kitchens plastic-free, and become a more environmentally mindful shopper. One: Pot, Pan, Planet is a splendid cookbook that is all good: for you, for your pocket, for the planet--and, of course, for your palate!
About the Author
---
ANNA JONES is a cook, writer, and stylist. Dubbed the "Queen of Greens" by The Guardian, she is widely recognized as being the voice of modern vegetarian cooking. She is the author of The Modern Cook's Year, A Modern Way to Eat, and A Modern Way to Cook. She lives in Hackney, east London with her husband and son.
Praise For…
---
TIME's Most Anticipated Cookbook of the Year

"This is a book where thought meets practical action meets deliciousness...a huge achievement." --Yotam Ottolenghi, bestselling author and award-winning chef

"It's true to say that Anna Jones always delivers: reading any recipe of hers is like receiving a promise of dependable deliciousness. With this book, however, she has given something deeper of herself. There's so much humanity and wisdom in it . . . It's like being led by the hand by a smiling, kind reveller, who wants only for us to enjoy food as much as possible, without wasting it, or missing out on everything it brings . . . The food itself is tummy-rumblingly good [and] strikes absolutely the right balance between accessibility and originality." --Nigella Lawson

"Page after page of bright vegetarian recipes with punchy flavours that casually globe-trot from Laos to Greece. There are plenty of delicious juxtapositions (saag aloo shepherd's pie!), but by now we've learned that few writers are so adept at celebrating vegetables and creating showstopper dishes that manage to be easier than you expect." --Tim Lewis, The Guardian

"[Anna Jones'] book doesn't just share a wealth of delicious recipes but also explores all the different ways that what we eat and how we prepare it can be used to help—not hurt—the planet." —Refinery29

"Still dedicated to giving us stylish dishes with maximal flavour (think broad bean and green herb shakshuka, and golden rosti with ancho chili chutney), the book is punctuated with palatable nuggets of information: in chapters entitled 'Planet I' and 'Planet II,' Jones explains how we might combat the climate crisis through small behavioural changes around the way we eat." —Harper's Bazaar

"Every so often a cookbook comes along that raises the bar for food writing. Think Nigella Lawson's How to Eat or Samin Nosrat's Salt, Fat, Acid, Heat. The latest chef to join the pantheon: Anna Jones." —British Vogue

"I got a handful of new cookbooks at the beginning of this year and ONE: POT, PAN, PLANET was by far my favorite. The format is so practical and it's full of not only recipes but also very actionable tips for being more resourceful in the kitchen. The author included a section for different ways to cook with common ingredients...and I've found it so helpful for cooking things on the fly. For someone who already loves cooking, this book has helped me become more creative in the kitchen and even more excited to cook. I want everyone to have it." --Kate Arenda, Wit & Delight

"Anna Jones trained under Jamie Oliver and has now made a name for herself as one of the best wholly veggie chefs . . . Not only is [her book] brimming with excellent recipes, [it] is also a bible on how to live greener, healthier lives overall. Anna has spent three years tweaking and testing recipes to make them as easy, cheap, and sustainable as possible." —Woman & Home

"Integrating instruction, inspiration, and an ecologically sound culinary ethos, Jones organizes recipes by method of preparation and includes sections focusing on how to approach food consumption in a conscientious, small-footprint, wasteless way." --Annie Bostrom, Booklist (Top 10 Cookbooks of 2022)