We've Got You Covered: Rebooting American Health Care (Hardcover)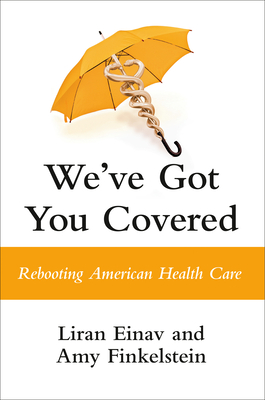 List Price: $29.00
Our Price: $24.65
(Save: $4.35 15%)
Warehouse, In Stock | Usually Ships in 1-5 Days | New
Description
---
From a MacArthur Genius ​MIT economist and pre-eminent Stanford economist comes a lively and provocative proposal for American health insurance reform

Few of us need convincing that the American health insurance system needs reform. But many of the existing proposals focus on expanding one relatively successful piece of the system or building in piecemeal additions. These proposals miss the point.

As the Stanford health economist Liran Einav and the MIT economist and MacArthur Genius Amy Finkelstein argue, our health care system was never deliberately designed, but rather pieced together to deal with issues as they became politically relevant. The result is a sprawling yet arbitrary and inadequate mess. It has left 30 million Americans without formal insurance. Many of the rest live in constant danger of losing their coverage if they lose their job, give birth, get older, get healthier, get richer, or move.

It's time to tear it all down and rebuild, sensibly and deliberately. Marshaling original research, striking insights from American history, and comparative analysis of what works and what doesn't from systems around the world, Einav and Finkelstein argue for automatic, basic, and free universal coverage for everyone, along with the option to buy additional, supplemental coverage. Their wholly original argument and comprehensive blueprint for an American universal health insurance system will surprise and provoke.

We've Got You Covered is an erudite yet lively and accessible prescription we cannot afford to ignore.
About the Author
---
Liran Einav is a Professor of Economics at Stanford University as well as the Director of the Industrial Organization Program at the National Bureau of Economic Research. Amy Finkelstein is a Professor in MIT's Department of Economics. She is an elected member of the Institute of Medicine as well as the Director of the Health Care Program for the National Bureau of Economic Research. Additionally, she has won the MacArthur prize and the John Bates Clark medal.
Praise For…
---
"A highly insightful examination of how to fix America's woefully inadequate health care system... The authors make a compelling case for going back to the drawing board to do it right... One of the best entries in the health care reform genre."
— Kirkus (starred review)

"We've Got You Covered is an excellent book that provides a clear honest analysis of the trade-offs involved in reforming the US healthcare insurance framework; it's a must-read for anyone interested in this urgent debate."
— Forbes

"A thoughtful, provocative and highly readable prescription for health insurance reform. This is a book that every citizen, medical professional, and policymaker should read and grapple with."
— Emily Oster, author of Expecting Better, Cribsheet, and The Family Firm
 
"I never thought the day would come when I say this about an economics book, but this is unputdownable. Witty, erudite without being overbearing, opinionated, and convincing--this book is a jewel. If you open the first page, you will want to know how it ends!"
— Esther Duflo, Nobel Laureate in Economics and co-author of Good Economics for Hard Times
 
"We've Got You Covered is the clearest diagnosis of the American health care system I have seen. Thought-provoking, readable, and realistic yet optimistic, this book should and will reset the debate about how to fix health care."
— Siddhartha Mukherjee, physician, biologist, and author of The Emperor of All Maladies: A Biography of Cancer
 
"A pair of economists set forth –in clear, conversational English -- the moral, medical, and economic reasons why the U.S.A. should replace our exorbitant, unfair health care system with new models that provide decent care to every American. They take on all the hard questions –whom to cover, what to cover, what not to cover, how to pay for it all –and prove convincingly that we could have universal health care worthy of the world's richest nation. An excellent book."
— T. R. Reid, author of The Healing of America
 
"It can feel impossible to say anything fresh about America's never-ending healthcare debate, but Amy Finkelstein and Liran Einav have done the trick. We've Got You Covered is insightful, informative, rigorous, and novel—brimming with ideas to give America the just and effective health insurance system we deserve. Whatever your politics you will learn and take inspiration from this book, an important reboot of the stale but vital debate over the future of American health care."
— Matt Yglesias, author of One Billion Americans: The Case for Thinking Bigger and the Slow Boring newsletter
 
"A smart, cogent, and eminently readable look at the U.S. healthcare system and what can be done to fix it."
— N. Gregory Mankiw, Robert M. Beren Professor of Economics at Harvard University and former Chair of the President's Council of Economic Advisers