Swarm (Second Formic War #1) (Prebound)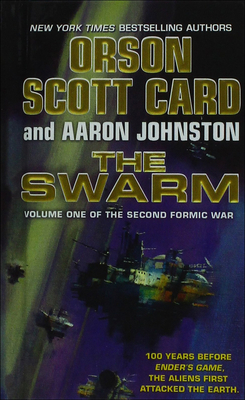 Other Books in Series
This is book number 1 in the Second Formic War series.
Description
---
New York Times bestselling authors Orson Scott Card and Aaron Johnston return with an all-new prequel trilogy to Ender's Game, The Second Formic War, with book one, The Swarm
A coalition of corporate and international military forces beat back the first invasion of Earth, in the First Formic War. But it was a near thing, and the devastation of much of Earth has shocked the planet into cooperation.
The war is not won. The single ship that did so much damage was only a scout ship. There is another, much bigger, colony ship on its way into our system, and Earth really doesn't have any defenses against it. They only have a few months to find some.
Here is the Second Formic War, and the threat to all humanity that led to the creation of the Hegemony, and the Battle School, and the genetic program that led to the birth of Ender Wiggin.
The Second Formic War
#1 The Swarm
About the Author
---
ORSON SCOTT CARD is the author of the international bestsellers Shadow of the Giant, Shadow Puppets, Shadow of the Hegemon, and Ender's Shadow, and of the beloved classic of science fiction, Ender's Game, as well as the acclaimed fantasy series The Tales of Alvin Maker. He lives in Greensboro, North Carolina. AARON JOHNSTON is the coauthor of the bestselling novels Earth Unaware, Earth Afire, and Earth Awakens. He was also an associate producer on the movie Ender's Game, wherein he makes an appearance as an officer of the International Fleet. Blink and you'll miss him. He and his wife are the parents of four children.