The Man With a Spare Room in His Head (Paperback)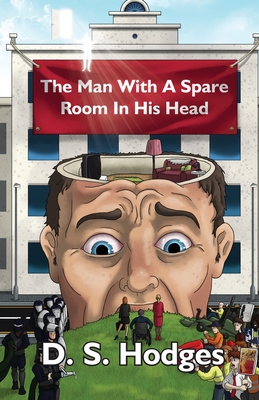 $16.74

Warehouse, In Stock | Usually Ships in 1-5 Days | New
Description
---
Fifty-year-old council worker Brian Price didn't know he had a spare room in his head, so it came as a complete surprise when Gordlyn, a fifth-dimensional entity from Al Nur, took up residence.
The Al Nurians were once similar to humans, but ascended to the fifth dimension and became energy beings. You might think this means they are enlightened. Unfortunately for Brian Price, they are not. The Al Nur race is racked by infighting and petty squabbling, and worst of all, they use earthlings to help resolve their differences. Engaging 'Daints' - Al Nurians who can cohabit within a human brain - they play chess-like games using other beings, like humans, as their pawns.
Poor Brian didn't want a lodger taking up room in his head. He didn't want to be part of the hilarious rollercoaster ride his life became. He certainly didn't want to be beaten up, committed, responsible for riots and strikes, or to become an accidental hero.
He just wanted life to be easy, to enjoy some true love and a little 'rumpty tumpty'. But his life was not that simple. The Al Nur had other plans for him, and all he could do was hold on to his hat and try not to lose his sanity
'Laugh-out-loud funny.' L.J. Holgate
REVIEWS
A friend of mine suggested this book, and I'm so glad he did. The plot is refreshingly different from other books I've read which in turn adds to the unpredictability of the storyline as it unfolds. The characters are wonderfully crafted and the author skilfully introduces a diverse group drawn together by circumstances none would have envisaged. The drama builds and is interspersed with humour which had me laughing out loud. I found it hard to put the book down as I just had to turn to the next page. L.J. Holgate
David Hodge's latest book, The Man with a Spare Room in His Head, is an eminently captivating novel. Written very much in the style of Franz Kafka, this is a compelling read with fascinating sub-plots, humour, suspense, terror and even a bit of adult intimacy. The Man with a Spare Room in his Head is immensely enjoyable, compelling and thought-provoking. It should be added to everyone's list of Must Reads. Jeannette McInnes, Author
Wow What a ride Really great read. Clever wording and hilarious. I truly enjoyed reading this book. Will be one of those books I read again and again. Kimberly Osmond
Interesting story - no spoilers - highly original - most enjoyable and easy read. J.L. Nash