Youtube Marketing: Growing Your YouTube Channel And Turning Your Subscribers And Viewers Into Profitable Customers For Your Business Thro (Paperback)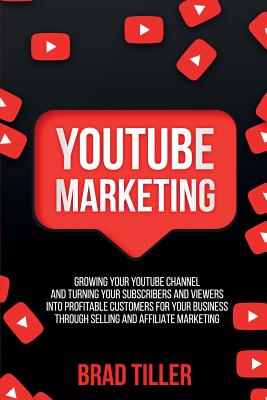 List Price: $9.99
Our Price: $8.49
(Save: $1.50 15%)
Warehouse, In Stock | Usually Ships in 1-5 Days | New
Description
---
YOUTUBE MARKETING

Are you struggling to run your business through YouTube?

Not sure how to set up your account as a business or maybe you just don't know how to build your subscribers and viewers and more importantly turn your audience into customers?

Whether you own a traditional business, online business, want to become an influencer or want to create a movement around a niche, this is for you. It's a quick read and you'll be up and running as a YouTube pro in no time

Customers like to watch and listen instead of read as it is more attractive, creating more trust and this is why it is a must to build your YouTube for business purposes.

Not to mention there are over a billion users, meaning nearly one-third of everyone on the Internet, are spending billions of hours of watching videos on YouTube.

Here Is A Preview Of What's Included...
Secrets towards growing a Loyal YouTube Subscriber base
Building an attractive profile
Why researching your audience is the most important step of them all
How and why affiliate marketing on YouTube is so profitable and passive
How to grow your social media accounts together as ONE
Turning your viewers and subscribers into customers and making money through YouTube
How to generate content ideas for your niche
9 Filming, Editing and Posting Factors to take into account if you want to stand out against your competitors
Identifying trends and staying ahead of the game
How to use SEO to your advantage
Making a profit through AdSense, affiliate programs, and ambassador programs
Selling products and services through YouTube the right way
The top 14 Types of Videos you should create to increase your chances of going Viral
Much, Much More


Even if you are a noobie when it comes to social media this book takes you from setting up your YouTube account to showing you how to profit from your account and everything else in between.

You might be questioning: "but there's too much competition" or "I don't know how to set this up". Rest assured as this book takes you from setting things up from scratch to automating your account as a business which generates thousands of extra customers to your business, meaning thousands of extra dollars

It is a no brainer to use this booming social media platform to connect to more people and more importantly generate more profit from a business perspective.

Grow your knowledge towards how you can make YouTube marketing work for you. Whether you have a business or not, this book tackles all fields giving any entrepreneur everything they need to know towards making profit by creating a YouTube Channel.

The best time to plant a tree was 20 years ago, the second best time is now. So what are you waiting for? Build your business to extreme levels within no time


Purchase Your Copy Today