A Strong and Fragile Thing (Paperback)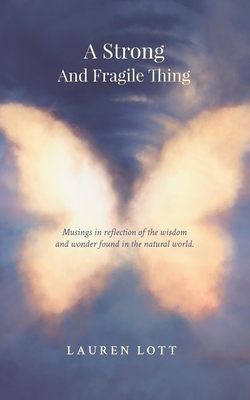 $13.80

Warehouse, In Stock | Usually Ships in 1-5 Days | New
Description
---
A collection created to revive, 'A Strong and Fragile Thing, ' musings in reflection of the wisdom and wonder found in the natural world, is divided into 4 sections; sky winks, earth bodies, water faces and weather voices, that explore the beauty and diversity in and beyond our planet.
A compilation of free verse poetry with all the 'feels', this work is a reminder of the power of watchfulness, and how being still brings peace and connects us to something much larger. This work contains a breath of thought relating to the universe and how we are kindred to it.
Section one, 'sky winks' encourages the reader to look up, and take lessons from sun, moon, stars, clouds, and rainbows. It opens with sunrise and ends with universal love.
Next, 'earth bodies' draws on wisdom found in the wilderness. Here, forests, mountains, plants, and flowers, take center stage. Take in all the sights, sounds, colours and textures of wonderous Earth.
'Water faces' dives into the mystery of oceans, wells, rivers, and pools. Find yourself wandering the deep, playing in the shallows and reflecting on the
beauty of both darkness and light.
Finally, 'weather voices' illuminates and amplifies the sometimes-missed pleasure of seasons and time. Read how rain, wind and heat, shape and transform. Perceive that no one is left untouched by the subtle and strong ways weather affects our world.
'A Strong and Fragile Thing', is for those who seek to heal, enliven, and become reenchanted with the privilege of being here.
Read and let the living pour life into you.