Beyond War: Reimagining American Influence in a New Middle East (Hardcover)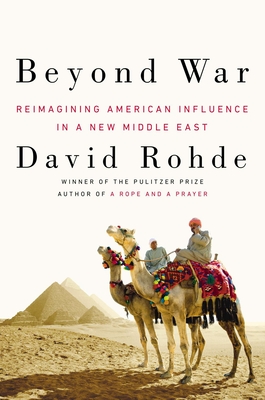 List Price: $27.95
Our Price: $26.55
(Save: $1.40 5%)
Description
---
The Pulitzer Prize–winning author examines the cardinal failing of Washington's war on terror

This book distills eleven years of expert reporting for The New York Times, Reuters, and The Atlantic Monthly into a clarion call for change. An incisive look at the evolving nature of war, Rohde exposes how a dysfunctional Washington squandered billions on contractors in Iraq and Afghanistan, neglected its true allies in the war on terror and failed to employ its most potent nonmilitary weapons: American consumerism, technology, and investment. Rohde then surveys post-Arab Spring Tunisia, Turkey, and Egypt, and finds a yearning for American technology, trade, and education. He argues that only Muslim moderates, not Americans, can eradicate militancy. For readers of Steve Coll, Tom Ricks, and Ahmed Rashid, Beyond War shows how the failed American effort to back moderate Muslims since 9/11 can be salvaged.
About the Author
---
David Rohde is a columnist for Reuters and The Atlantic Monthly. A former reporter for The New York Times, he is a two-time winner of the Pulitzer Prize and the author, with Kristen Mulvihill, of A Rope and a Prayer: A Kidnapping from Two Sides and Endgame: The Betrayal and Fall of Srebrenica. He lives in New York City.
Praise For…
---
"The lesson that Rohde teaches… is important....[Rohde] expose(s) the deep contradiction between Washington's long experiment in slashing the civilian instruments of American power and its post-9/11 attempt to use those same instruments to remake the greater Middle East."
- The New York Times

"Exemplary…Sensible."
– The Daily Beast

"A reminder that there is a limit to what we can accomplish through force."
– Daily News