No Birds of Passage: A History of Gujarati Muslim Business Communities, 1800-1975 (Hardcover)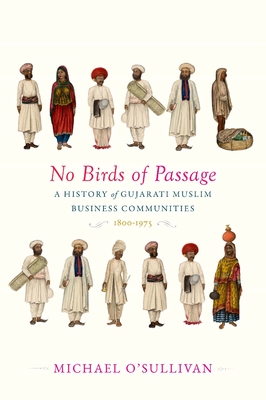 This item is backordered and not currently available. Please contact us for an estimated availability date.
Description
---
A sweeping account of three Gujarati Muslim trading communities, whose commercial success over nearly two centuries sheds new light on the history of capitalism, Islam, and empire in South Asia.
During the nineteenth century, three Gujarati Muslim commercial castes--the Bohras, Khojas, and Memons--came to dominate Muslim business in South Asia. Although these communities constitute less than 1 percent of South Asia's Muslim population, they are still disproportionately represented among the region's leading Muslim-owned firms today. In
No Birds of Passage
, Michael O'Sullivan argues that the conditions enabling their success have never been understood, thanks to stereotypes--embraced equally by colonial administrators and Muslim commentators--that estrange them from their religious identity. Yet while long viewed as Hindus in all but name, or as "Westernized" Muslims who embraced colonial institutions, these groups in fact entwined economic prerogatives and religious belief in a distinctive form of Muslim capitalism. Following entrepreneurial firms from Gujarat to the Hijaz, Hong Kong, Mombasa, Rangoon, and beyond, O'Sullivan reveals the importance of kinship networks, private property, and religious obligation to their business endeavors. This paradigm of Muslim capitalism found its highest expression in the
jamaats
, the central caste institutions of each community, which combined South Asian, Islamicate, and European traditions of corporate life. The
jamaats
also played an essential role in negotiating the position of all three groups in relation to British authorities and Indian Muslim nationalists, as well as the often-sharp divisions within the castes themselves. O'Sullivan's account sheds light on Gujarati Muslim economic life from the dawn of colonial hegemony in India to the crisis of the postcolonial state, and provides fascinating insights into the broader effects of capitalist enterprise on Muslim experience in modern South Asia.