Philosophy as Dialogue (Hardcover)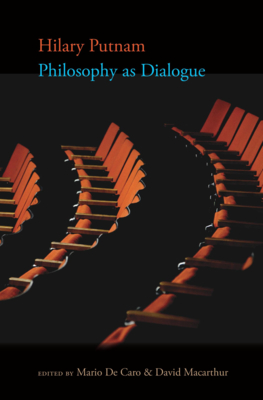 $45.00
This item is backordered and not currently available. Please contact us for an estimated availability date.
Description
---
A collection of Hilary Putnam's stimulating, incisive responses to such varied and eminent thinkers as Richard Rorty, J rgen Habermas, Noam Chomsky, Martha Nussbaum, W. V. Quine, Wilfrid Sellars, John McDowell, and Cornel West.
Hilary Putnam (1926-2016) was renowned--some would say infamous--for changing his philosophical positions over the course of his long and much-admired career. This collection of essays, the first of its kind, showcases how his ideas evolved as he wrestled with the work of his contemporaries. Divided into five thematic sections,
Philosophy as Dialogue
begins with questions of language and formal logic, tracing Putnam's reactions to the arguments of Wilfrid Sellars, Noam Chomsky, Charles Travis, and Tyler Burge. Next, it brings together Putnam's responses to realists and antirealists, philosophers of science and of perception, followed by forays into pragmatism and skepticism. While Putnam devoted most of his efforts to logic, mathematics, and the philosophy of mind, he also took up issues in moral philosophy, politics, and religion. Here we read him in conversation with giants of these fields, including Martha Nussbaum, J rgen Habermas, Elizabeth Anscombe, Cora Diamond, Richard Rorty, and Franz Rosenzweig. Finally,
Philosophy as Dialogue
presents Putnam's deeply personal and largely unknown writing on philosophical method that reveals the influence of W. V. Quine, Michael Dummett, and Stanley Cavell on his work. Once more, Mario De Caro and David Macarthur have presented and introduced a choice selection of Hilary Putnam's writings that will change the way he is understood. Most of all, these thirty-six replies and responses to his contemporaries showcase the extraordinary--perhaps even unparalleled--breadth of his work, his capacity to engage deeply with seemingly every mode of philosophy.