On War: Introduction by Michael Howard (Everyman's Library Classics Series) (Hardcover)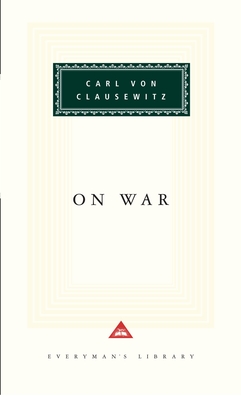 List Price: $40.00
Our Price: $34.00
(Save: $6.00 15%)
Description
---
Carl von Clausewitz was not only an officer who served with great distinction during the Napoleonic campaigns but was also a military historian and intellectual of the highest order—at ease with both the strategic doctrines of his time and the larger movements of thought in the world around him.  Out of these elements he distilled his classic discussion of the nature and meaning of one of humankind's central endeavors, war—which he famously declared to be "the continuation of politics by different means."
   
Though unfinished at his death, On War contains all his important ideas about absolute versus limited war, the intrinsic violence of war, and its necessary subjugation to political ends.  It would be impossible to overestimate the influence of this book on subsequent strategic thinking, on the political considerations that underlie such thinking, and on the general understanding of human conflict.


About the Author
---
Prussian general and military theorist Charles Von Clausewitz was born in the Prussian city of Burg in 1780. He was commissioned to take part in the campaigns of the First Coalition against Revolutionary France. He is most famous for his military treatise Vom Kriege, translated into English as On War.