An Unquiet Mind: A Memoir of Moods and Madness (Paperback)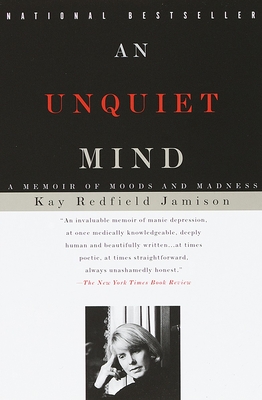 List Price: $18.00
Our Price: $15.30
(Save: $2.70 15%)
Warehouse, In Stock | Usually Ships in 1-5 Days | New
Description
---
NATIONAL BESTSELLER • A deeply powerful memoir about bipolar illness that has both transformed and saved lives—with a new preface by the author. 

Dr. Jamison is one of the foremost authorities on manic-depressive (bipolar) illness; she has also experienced it firsthand. For even while she was pursuing her career in academic medicine, Jamison found herself succumbing to the same exhilarating highs and catastrophic depressions that afflicted many of her patients, as her disorder launched her into ruinous spending sprees, episodes of violence, and an attempted suicide.

Here Jamison examines bipolar illness from the dual perspectives of the healer and the healed, revealing both its terrors and the cruel allure that at times prompted her to resist taking medication.
About the Author
---
KAY REDFIELD JAMISON is a professor of psychiatry at the Johns Hopkins University School of Medicine as well as an honorary professor of English at the University of St. Andrews in Scotland. She is the author of the national best sellers An Unquiet Mind, Night Falls Fast, and Touched with Fire. She is coauthor of the standard medical text on manic-depressive illness and author or coauthor of more than one hundred scientific papers about mood disorders, creativity, and psychopharmacology. Dr. Jamison, the recipient of numerous national and international scientific awards, is a John D. and Catherine T. MacArthur Fellow.
Praise For…
---
"An invaluable memoir of manic depression, at once medically knowledgeable, deeply human and beautifully written ... at times poetic, at times straightforward, always unashamedly honest."
—The New York Times Book Review
 
"Stands alone in the literature of manic-depression for its bravery, brilliance and beauty."
—Oliver Sacks
 
"Jamison's [strength] is in the gutsy way she has made her disease her life's work and in her brilliant ability to convey its joys and its anguish.... Extraordinary."
—Washington Post Book World

"Elegiac and emotionally precise."
—Oprah Magazine

"The great gift Jamison offers here, beyond her honesty and the beauty of her writing, is perspective: a cleared-eyed view of illness and death, sanity and insanity, love and grief . . . To write the truth with such passion and grace is remarkable enough. To do this in loving memory of a partner is tribute indeed."
—The Washington Post

"The most emotionally moving book I've ever read about the emotions."
—William Safire, The New York Times Magazine
 
"Written with poetic and moving sensitivity ... a rare and insightful view of mental illness from inside the mind of a trained specialist."
—Time
 
"Enlighting ... eloquent and profound."
—San Francisco Chronicle
 
"Piercingly honest.... Jamison's literary coming-out is a mark of courage."
—People

"Brave, insightful, richly textured and chillingly authentic."
—Boston Globe
 
"A riveting portrayal of a courageous brain alternating between exhilarating highs and numbing lows."
—James D. Watson, Nobel laureate and author of The Double Helix

"In a most intimate and powerful telling, Jamison weaves the personal and professional threads of her life together.... [She] brings us inside the disease and helps us understand manic depression.... What comes through is a remarkably whole person with the grit to defeat her disease."
—Cleveland Plain Dealer
 
"A riveting read. I devoured it at a single sitting and found the book almost as compelling on a second read.... An Unquiet Mind may well become a classic.... Jamison sets an example of courage."
—Howard Gardner, Nature
 
"Stunning.... [An] exquisite (in both a literary and medical sense) autobiography.... This is an important, wonderful book."
—Jackson Clarion Ledger
 
"Extraordinary.... An Unquiet Mind must be read."
—The New England Journal of Medicine
 
"A beautiful, funny, original book. Powerfully written, it is a wonderful and important account of mercurial moods and madness. I absolutely love this book."
—Pat Conroy, author of The Prince of Tides
 
"A landmark.... The combination of the intensity of her personal life and the intellectual rigor of her professional experience make the book unique.... A vibrant and engaging account of the life, love and experience of a woman, a therapist, an academic, and a patient."
—British Medical Journal
 
"Affecting, honest, touching ... fluid, felt and often lyrical."
—Will Self, The Observer (London)
 
"Quite astonishing.... Cuts through the dead jargon and detached observations of psychiatric theory and practice to create a fiery, passionate, authentic account of the devastation and exaltation, the blindness and illumination of the psychotic experience."
—The Sunday Times (London)
 
"Rises to the poetic and has a mystical touch.... A courageous and fascinating book, a moving account of the life of a remarkable woman."
—The Daily Telegraph (London)
 
"Fast-paced, startlingly honest and frequently lyrical.... Jamison has] a novelist's openness of phrase and talent for bringing character alive."
—Scotland on Sunday
 
"Superbly written.... A compelling work of literature."
—Independent on Sunday (London)

"A unique account, filled with exquisitely wrought nuances of emotion, of her husband's death . . . In her brilliant explication distinguishing between madness and grief, her battle to remain sane is as stirring as his to beat cancer. "
—Booklist (starred review)

"A soul-baring love letter. "
—Kirkus Reviews

"A superb read. "
—Library Journal (starred review)