True Professionalism: The Courage to Care About Your People, Your Clients, and Your Career (Paperback)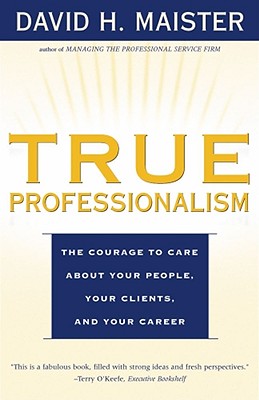 List Price: $18.00
Our Price: $15.30
(Save: $2.70 15%)
Description
---
David Maister, the world's premier consultant to professional service firms, vigorously challenges professionals to examine this essential, yet under-addressed question: What is true professionalism?

Professional firms are forever trying to get their people to act like professionals—to do the right things. Though their various incentives may create employee compliance, these don't often encourage excellence. His answer is clear: It is believing passionately in what you do, never compromising your standards and values, and caring about your clients, your people and your own career. In clear and compelling terms, Maister shows that this approach is not only ethical but also conducive to commercial success.
About the Author
---
David H. Maister, one of the world's leading authorities on the management of professional service firms, is the author of several successful books, including Managing the Professional Service Firm, True Professionalism, and Practice What You Preach, and coauthor of The Trusted Advisor.
Praise For…
---
Thomas J. Tierney Worldwide Managing Director, Bain & Company Insightful, entertaining and useful! Maister's work bridges the gap between theory and practice; grounded in conceptual bedrock, it offers practical 'Monday morning' advice for anyone involved in managing a professional service firm.

John Harvey Chairman, PriceWaterhouseCoopers, Australia David Maister is the guru of professional services. A routine reading of Maister?s lessons is good religion for all practice managers.

James M. Kouzes Coauthor of The Leadership Challenge and Credibility True Professionalism is pure gold. You?ll be able to mine this rich vein for your entire career and always discover another nugget.

Adrian Martin Managing Partner, BDO Stoy Hayward UK Maister is not for the fainthearted. If you are not prepared to ask the tough questions about your business, don?t open this book! ?

Tom Watson Vice Chairman, Omnicom Group, Inc. Maister?s ideas are applicable in a wide range of professional businesses and are equally valid for small firms or large. This book speaks to the professional in all of us.

Martin Sorrell Chairman, WPP Group plc Provocative, controversial and stimulating, Maister challenges traditional thinking and provides new insights on a wide range of important issues.

A. W. (Pete) Smith, Jr. President & CEO, Watson Wyatt Worldwide David Maister has a keen awareness of what creates success in professional service firms and a clear way of communicating ideas that truly make a difference.

John M. Westcott, Jr. Assistant Managing Partner, Hale & Dorr, Boston Maister in print, like Maister in person, is animated, entertaining and insightful. He always leaves the reader with food for further thought.

Robert M. Heller Kramer, Levin, Naftalis & Frankel David Maister is a walking oxymoron, a practical visionary whose thoughtful analysis of the professional service firm is must-reading for anyone trying to lead, manage or survive in one. If you need help getting your prima donnas to sing like a chorus, read this book -- better yet, ask them to.

Fergus Ryan Managing Partner, Arthur Andersen, Australia David Maister?s knowledge of professional services is second to none.