Harry Truman and the Struggle for Racial Justice (Hardcover)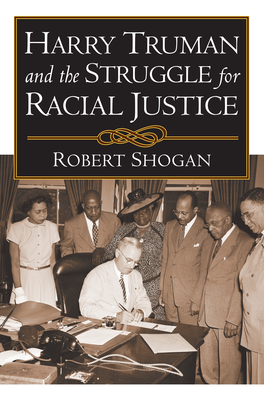 $51.75
This item is backordered and not currently available. Please contact us for an estimated availability date.
Description
---
When Harry Truman was rescued from political obscurity to become Franklin Roosevelt's running mate, black Americans were deeply troubled. Many believed that Truman, born and raised in former slave-holding Missouri, was a step back on civil rights from Henry Wallace, the liberal incumbent vice president. But by the end of his own presidency, black newspaper publishers cited Truman for having "awakened the conscience of America and given new strength to our democracy by his courageous efforts on behalf of freedom and equality." In this first full-scale account of Truman's evolving views on civil rights, Robert Shogan recounts how Truman outgrew the bigotry of his Jackson County upbringing to become the first president since Lincoln to attempt to redress the nation's long history of injustice toward its black citizens--and in the process transformed the course of race relations in America. Shogan vividly demonstrates the full significance of the 33rd president's contributions to that transformation. He ordered the integration of the armed forces and threw the weight of the Justice Department behind the long struggle against segregation in housing and education. And he used the platform of his presidency to relentlessly trumpet the cause of equal rights for those least favored Americans, even making an unprecedented address to the NAACP. Going beyond other accounts of Truman, Shogan points out the political and personal factors that motivated the president and weighs the potential political costs and benefits of his civil rights actions. Shogan also explains Truman's shift away from his formative racial prejudices by shedding light on the forces that shaped his character and leadership qualities. These included his political tutelage under "Boss Tom" Pendergast, which taught him the value of black voters, and the influence of populism, which fostered his support for underdogs such as black Americans. Illuminating how Truman became the first president to make racial injustice a political priority-and the first to denounce segregation as well as discrimination--Shogan's book opens a new and provocative window on the struggle for civil rights in America.