Sharon, Lois and Bram's One Elephant Went Out to Play (Hardcover)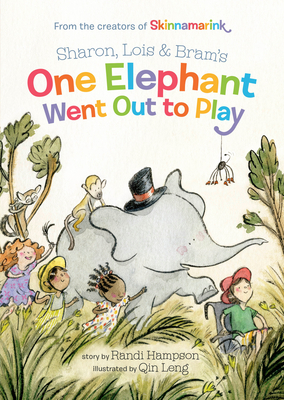 List Price: $17.99
Our Price: $15.29
(Save: $2.70 15%)
Description
---
From the creators of Skinnamarink comes another picture book based on the classic counting song made famous by this beloved trio of children's entertainers. One elephant went out to play upon a spider's web one day.
She had such enormous fun, that she called for her baby elephant to come. Sharon, Lois and Bram invite readers to join them in a musical story about a magical spider web. Jungle animals and kids in costume join in the fun on the web, including a glamorous giraffe, a cranky crocodile, a silly, smiley snake and five monkeys. After the 10th animal is invited onto the web, EVERYONE is invited to the party -- but is the web strong enough? Through Qin Leng's wonderfully whimsical illustrations, this delightful picture book tells the story of a diverse group of children coming together in play and song.
About the Author
---
SHARON HAMPSON, the late LOIS LILLENSTEIN (d. 2015) and BRAM MORRISON are some of Canada's most famous children's performers, with fans across North America and around the world. The trio, known simply as Sharon, Lois and Bram, formed in Toronto in 1978 and went on to create two top-rated children's television shows, The Elephant Show (CBC/Nickelodeon, 1984-88) and Skinnamarink TV (CBC/TLC, 1997-98), and to release 21 full-length albums (many of which reached gold, platinum, double platinum and triple platinum). They have won countless awards and were appointed to the Order of Canada in 2002. In 1998 they performed at the UN General Assembly and in 1994 they performed at the White House Annual Easter Egg Roll and Hunt. They also performed a run at the renowned Palace Theater on Broadway. In 2018, Sharon and Bram celebrated their 40th anniversary. After Bram's retirement in 2019, Sharon and her daughter, Randi, continue to entertain children and share their message of love. Their first picture book, Sharon, Lois and Bram's Skinnamarink was a national bestseller. Throughout her career, QIN LENG has illustrated picture books, magazines and book covers with publishers from around the world. Recent picture books include her author/illustrator debut I Am Small; Ordinary, Extraordinary Jane Austen written by Deborah Hopkinson; and A Family Is a Family Is a Family written by Sara O'Leary. Hana Hashimoto, Sixth Violin, written by Chieri Uegaki, was a finalist for the Governor General's Literary Award, and received the APALA Award for best picture book. She lives in Toronto, with her husband and her son.