Why the Jews?: The Reason for Antisemitism (Paperback)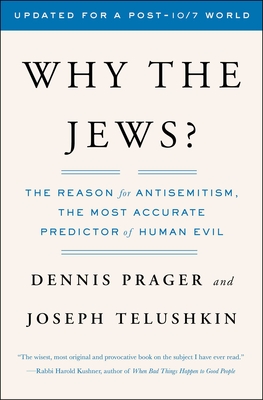 List Price: $18.99
Our Price: $16.14
(Save: $2.85 15%)
Description
---
From the bestselling authors of The Nine Questions People Ask About Judaism, a compelling discussion of the dangerous rise in antisemitism during the twenty-first century.

The very word Jew continues to arouse passions as does no other religious, national, or political name. Why have Jews been the object of the most enduring and universal hatred in history? Why did Hitler consider murdering Jews more important than winning World War II? Why has the United Nations devoted more time to tiny Israel than to any other nation on earth?

In this seminal study, Dennis Prager and Joseph Telushkin attempt to uncover and understand the roots of antisemitism—from the ancient world to the Holocaust to the current crisis in the Middle East. Why the Jews? offers new insights and unparalleled perspectives on some of the most recent, pressing developments in the contemporary world, including:

-The replicating of Nazi antisemitism in the Arab world
-The pervasive anti-Zionism/antisemitism on university campuses
-The rise of antisemitism in Europe
-Why the United States and Israel are linked in the minds of antisemites

Clear, persuasive, and thought-provoking, Why the Jews? is must reading for anyone who seeks to understand the unique role of the Jews in human history.
About the Author
---
Dennis Prager, one of America's most respected thinkers, is a nationally syndicated radio talk show host and syndicated columnist. He has written four books, including the #1 bestseller Happiness Is a Serious Problem. He has lectured on all seven continents and may be contacted through his website, DennisPrager.com.
Praise For…
---
"The wisest, most original and provocative book on the subject I have ever read."
— Harold Kushner