The Harley-Davidson Motor Co. Archive Collection (Hardcover)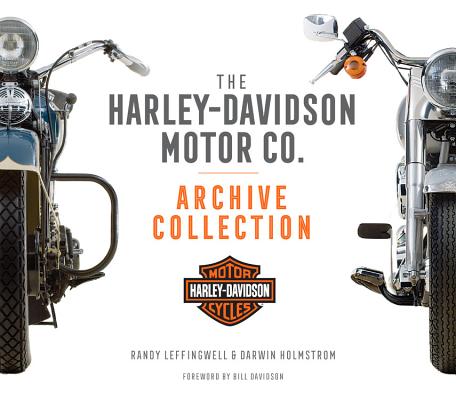 List Price: $40.00
Our Price: $34.00
(Save: $6.00 15%)
Description
---
Who knew, over a century ago, that the speed-hungry, cutting-edge motorcycle fanatics who founded Harley-Davidson were making history as well as bikes? The Harley-Davidson Motor Co. Archive Collection, showcasing more than 100 years of bikes that shaped motorcycle history, brings that history to gleaming life on page after page of motorcycles beyond compare.

Created in cooperation with the official Harley-Davidson Museum in Milwaukee, this book gives motorcycle enthusiasts an opportunity to pore over milestone bikes from the collection, and to linger over every detail that has made Harley-Davidson an icon of American open-road power and performance. With exquisite, detailed photographs and histories of more than 200 motorcycles from Harley's collection, from serial number one built in 1903 to pre-World War II racers to the latest Street Glide, the book captures the excitement of the best-known motorcycles in the world.

From the earliest singles and twins through street, race, and military bikes powered by Flatheads, Panheads, Knuckleheads Evos,Twin Cams, and more, The Harley-Davidson Motor Co. Archive Collection is a stunning collection, all that's missing is the patented roar, which readers are invited to supply!
About the Author
---
Randy Leffingwell wrote his first book, American Muscle, while still on staff at the Los Angeles Times. The book examined Times' publisher Otis Chandler's growing collection of muscle cars. American Muscle published in September 1990, jump-started a love of book creation that ultimately led Leffingwell to leave the Times in 1995. By then, he and Motorbooks had published Porsche Legends, and six other books.
 
Since 1990, Leffingwell has authored more than 60 titles, most of them automotive-oriented. Over 30-plus years, these include a dozen Porsche titles ranging from general overviews—Porsche 75 Years: Expect the Unexpected, and The Complete Book of Porsche 911—to deeper explorations in Porsche Turbo and Porsche 911: 50 Years. During this time, he has regularly traveled to Germany to continue his research regarding Porsche's history. To date, Leffingwell has interviewed more than 200 Porsche engineers, stylists, model makers, racers, and managers.
 
While he has tackled other subjects including John Deere tractors, Harley-Davidson motorcycles, and West Coast lighthouses, Leffingwell admits he is almost addicted to the Porsche story. In addition to his book work, he is historical editor for 000 magazine and PorschePanorama. And for the past decade he has been researching and writing an encyclopedic history of Porsche's motorsports endeavors.
 
Leffingwell lives near Santa Barbara, California.
Darwin Holmstrom has written, co-written, or contributed to more than thirty books on subjects ranging from motorcycles and muscle cars to Gibson Les Paul guitars, including Indian Motorcycles, GTO: Fifty Years, Let's Ride: Sonny Barger's Guide to Motorcyclying, Top Muscle: The Rarest Cars from America's Fastest Decade, BMW Motorcycles, The Life Harley-Davidson, and The Complete Idiot's Guide to Motorcycles. Darwin is a former senior editor at Motorbooks and former Midwestern editor for Motorcyclist magazine.