Encyclopedia Prehistorica Dinosaurs Pop-Up (Hardcover)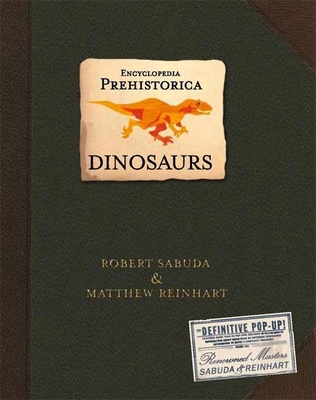 List Price: $44.99
Our Price: $38.24
(Save: $6.75 15%)
Warehouse, In Stock | Usually Ships in 1-5 Days | New
Description
---
From renowned pop-up masters Robert Sabuda and Matthew Reinhart comes an awe-inspiring tribute to the world's most beloved extinct animals and their 180-million-year reign on our planet.

Open this book and a massive T. REX springs out, flashing a startling jawful of jagged teeth. Turn the next spread and a ravishing raptor unfurls and appears to fly off the edge of the page. Inside the amazing ENCYCLOPEDIA PREHISTORICA: DINOSAURS are "shield bearers" in full-body armor, creatures with frilly headgear, and weighty, long-necked giants. There are even amusing tidbits on the history of paleontology itself — like a pop-up version of a Victorian New Year's dinner in the belly of a dinosaur model, or a pair of scientists locked in a literal tug-of-war over bones.

Full of fascinating facts and lighthearted good humor, this breathtaking book includes fascinating, up-to-the-minute information about popular dinosaurs as well as many lesser-known varieties. With each of six spreads featuring one spectacular, large pop-up as well as booklets of smaller pop-ups and text, ENCYCLOPEDIA PREHISTORICA: DINOSAURS is a magnificent display of paper engineering and creativity — an astonishing book that will be read, admired, and treasured forever.
About the Author
---
Robert Sabuda is the creator of many breathtaking pop-up books, including ALICE IN WONDERLAND and THE WONDERFUL WIZARD OF OZ, both of which were NEW YORK TIMES bestsellers.

Matthew Reinhart is the creator of many award-winning pop-up books, including the Young Naturalist series, THE POP-UP BOOK OF PHOBIAS, and ANIMAL POPPOSITES.
Praise For…
---
Don't just look at the brilliantly designed and executed pop-ups of more than 35 dinosaurs; the engaging text is also a great introduction to everyone's favorite extinct creatures.
—The New York Times Book Review

With so many layers and moving paper parts - water-colored on all sides - readers may begin to feel like paleontologists unearthing fossils. Dino fans won't be disappointed.
—Publishers Weekly, starred review

This triumph of paper technology prompts amazement both at Sabuda and Reinhart's creativity and at the magnificence of the creatures they portray.
—Horn Book, The

Informational tidbits appear alongside exquisitely designed pop-up constructions in this visually stunning overview of all things dinosaur.
—School Library Journal

With Sabuda lending deft paper engineering to artwork rendered by Reinhart, who also wrote the book's text, the Mesozoic's major players leap into three dimension.
—Booklist

Frills, spikes, wings, and horns burst from the pages of this pop-up book in fabulous, intricate symmetry.
—Entertainment Weekly

For our 5-year-old reviewer, it was all about the intricate pop-up designs of the snaggle-toothed theropod and spiny-backed stegosaur.
—Wall Street Journal

What's old (we're talking Mesozoic Era) is new again in Robert Sabuda and Matthew Reinhart's knockout new pop-up book ENCYCLOPEDIA PREHISTORICA: DINOSAURS. . . . In sharp, often humorous prose, the kings of pop-up deliver facts on more than 50 species that should impress even rabid dinophiles.
—FamilyFun

The Jurassic Age jumps off the page in ENCYCLOPEDIA PREHISTORICA: DINOSAURS.
—Parents

This book defies categories. Robert Sabuda is readily acknowledged as the king of pop-ups, but Sabuda and Matthew Reinhart together have outdone themselves.
—Chicago Tribune

ENCYCLOPEDIA PREHISTORICA: DINOSAURS covers shield bearers, frill heads, meat eaters and more with dozens of spectacular pop-ups tucked inside.
—Time Magazine

For readers looking for a provocative introduction to life millions of years ago, this superb volume offers instant appeal.
—Chicago Sun-Times

'Stunning' is a much overused word — especially by book critics. Yet stunnig is truly the best way to describe ENCYCLOPEDIA PREHISTORICA: DINOSAURS.
—Pittsburgh Post Gazette

In this ultimate pop-up paean to the giant reptiles of yore, a prodigious amount of dinosaur lore accompanies more than 35 astonishingly intricate 3-D illustrations by two renowned paper engineers.
—Child

This is a beautiful and artistic pop-up.
—Advocate, The (Baton Rouge)

Appealing to readers of almost all ages, thanks to the magical paper engineering of Robert Sabuda and Matthew Reinhart.
—Denver Post

This dinosaur pop-up book is truly wonderful.
—Seattle Times

[A] mind-boggling compendium of all things dinosaur.
—Child Magazine's Best Children's Book Award

The definitive pop-up. That's what the cover bills, and that's what the book delivers.
—San Francisco Chronicle

A pictorial feast.
—Los Angeles Times