Pagan in Exile: Book Two of the Pagan Chronicles (Paperback)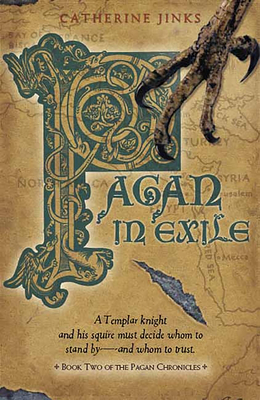 List Price: $6.99
Our Price: $6.64
(Save: $0.35 5%)
Description
---
"I LOVE these books. I'm now addicted to Pagan!" — Michael Cart, editor of Rush Hour

The year is 1188, and Jerusalem is in the hands of the Infidel. Upstanding Crusaders and their squires — like Lord Roland Roucy de Bram and Pagan Kidrouk — are returning to Europe, hoping to rally more knights to their cause. The sardonic young Pagan expects Lord Roland's family to be the picture of fortitude and good manners, but he's in for a rude awakening. Brutish and unfeeling, the de Bram clan cares nothing for the Crusades, or indeed for anything outside their neighborhood in France. Meanwhile, local unrest is brewing. Church authorities are duking it out with the de Brams over a group of "heretics" living nearby. And now Pagan and Roland, sworn to defend Christianity, are left to decide for themselves who to stand by — and whom to trust.
About the Author
---
Catherine Jinks is a medieval scholar and author of young adult books - a background that is evident in this second of four stories about Pagan Kidrouk. Catherine Jinks's books have garnered numerous awards, including the prestigious Children's Book Council of Australia Book of the Year. Pagan grew out of a university course Catherine Jinks took about the Crusades and out of her fascination with the real Order of the Templar. She was also heavily influenced by British comedies like MONTY PYTHON AND THE HOLY GRAIL. She did not expect, however, that she would end up writing four books about Templar squire Pagan Kidrouk. "He was such a strong character," she explains, "that he sprang into my head fully formed and wouldn't go away until I'd worked out his entire life span."

Peter de Sève, who created the striking jacket artwork for both PAGAN'S CRUSADE and PAGAN IN EXILE, is a NEW YORKER cartoonist and the designer of animated characters for ICE AGE, the 2002 Academy Award winner for Best Animated Feature Film.